Kerry Washington Hints Shonda Rhimes Knew About Her Pregnancy First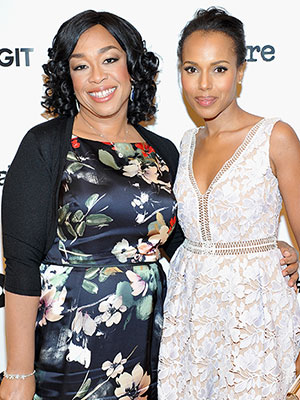 Donato Sardella/Getty
Kerry Washington has been one busy woman indeed! On top of wrapping season 5 of her hit show Scandal, whose finale aired Thursday, she is busy gearing up to be a mom for the second time — and fielding questions about it.
On Jimmy Kimmel Live! following the finale, Washington and Scandal's creator, Shonda Rhimes, stopped by and talked to the host about Washington's pregnancy.
"When you were shooting that thing, with [Tony Goldwyn's] Fitz, that must've been weird," says Jimmy Kimmel after congratulating the star on her exciting news. "To know that you were pregnant when that was the storyline."
"I don't know if that was happening at the same time," admits Washington, 39. And when Kimmel jokingly asks her when she was ovulating, Washington responds with a laugh and says, "I'll send you the app on my phone that tracks my various cycles!"
Want all the latest pregnancy and birth announcements, plus celebrity mom blogs? Click here to get those and more in the PEOPLE Babies newsletter.
But who knew about the Django Unchained actress' pregnancy first: her parents or Rhimes?
"My parents don't want me to answer that," Washington, who was recently seen at the Met Gala in a beautiful Marc Jacobs gown that showcased her growing baby bump, replies with a smile. "You don't want me to answer that!"
And Rhimes is over the moon for Washington, which she lets Kimmel know after he jokingly asks whether she hated getting the news that her star was pregnant.
"I'm really, really, really excited," she says, while Washington adds, "Shonda really loves babies — more than dogs!"
Washington and Rhimes, 46, also spoke to Kimmel about what Washington's soon-to-be new arrival might mean for Scandal protagonist Olivia Pope in season 6.
"Absolutely, of course!" Rhimes responds after the host asks whether she has a "game plan" for next season. But as soon as Kimmel tries to poke further and asks if he stumbled upon any secrets, Rhimes shuts him down.
"I don't know if you did or not, I'm not gonna tell you!" Rhimes says.
"Is Olivia Pope going to be pregnant on the show next season!?" he presses. And while Washington laughs and the audience cheers, Rhimes' lips are sealed.
Washington and husband Nnamdi Asomugha, a former cornerback for the San Francisco 49ers, also share 2-year-old daughter Isabelle Amarachi.
— Jen Juneau