Mom of Two Snooki on Nights Out: I Have a Glass of Wine and Get Drunk – 'You Need a Break!'
If the recent Mother's Day holiday has taught us anything, it's that moms — even new ones — deserve a break.
And while some moms choose to take this break in the form of getting their nails done or maybe even relaxing in front of the TV, Nicole "Snooki" Polizzi has no problem being totally honest on PEOPLE's Mom Talk about what makes her feel the most relaxed.
"My real 'mom time' is going out once a month with my other mom friends, or my friends in general, and just having a glass of wine — drinking, getting drunk," Polizzi, 28, says. "Just being normal! Just being a human without always thinking about your kids."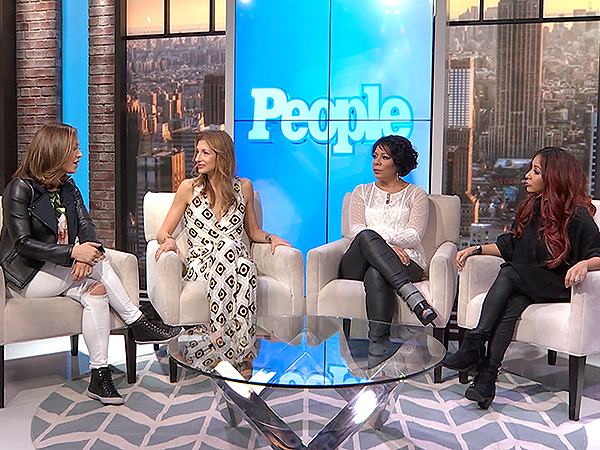 Want all the latest pregnancy and birth announcements, plus celebrity mom blogs? Click here to get those and more in the PEOPLE Babies newsletter.
She adds that obviously she is always thinking about her kids in general, but that, "You need a break."
"If that break is just for a night to enjoy yourself and just be you, you need to do that," adds the reality star mom of 19-month-old daughter Giovanna and son Lorenzo, 3½. "Because if you don't, you freak out!"
"Pregnancy was like rehab," jokes Dancing with the Stars contestant and ABC chief meteorologist Ginger Zee, 35, who's a new mom to 4-month-old Adrian. "You can't do anything! And so now, I'm still in that place because I'm nursing. And you don't think about that either — 'How long [is it going to be until I feel like] I need that?' "
Zee clarifies that she obviously wouldn't get "too blacked out," before Selenis Leyva pipes up in general agreement.
"Just a couple drinks!" says the Orange Is the New Black actress, 45, who is mom to teenage daughter Alina. "You're gonna need that couple of drinks, and then just pump it away and let the other clean milk come in … you need [to be able to let loose] in order to just be happy."
— Jen Juneau