Michael Phelps Welcomes Son Boomer Robert
Michael Phelps is a dad!
The Olympic swimmer and fiancée Nicole Johnson welcomed their first child, son Boomer Robert Phelps, at 7:21 p.m. on Thursday, May 5, Phelps announced via Instagram Saturday..
"Welcome Boomer Robert Phelps into the world," he wrote, sharing a family photo. "Born 5-5-2016 at 7:21 pm !!! Healthy and happy!!! Best feeling I have ever felt in my life!!! Nicole and Boomer both healthy!!!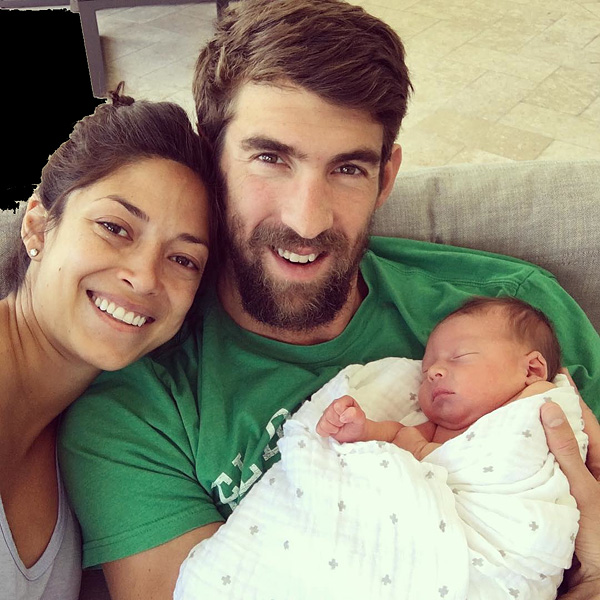 Courtesy Phelps Family
Want all the latest pregnancy and birth announcements, plus celebrity mom blogs? Click here to get those and more in the PEOPLE Babies newsletter.
The pair, both 30, announced they were expecting in November, and celebrated the upcoming birth of their child with a cowboy-themed baby shower in March.
Phelps and Johnson, a former Miss California, have been dating on and off since 2007. After splitting in 2011, they rekindled their romance in 2014 and got engaged in February 2015.
After last year's two DUI arrests, stint in treatment and six-month suspension from competing, things are looking up for Phelps. Between the birth of his son, helpful therapy sessions and the prospect of competing at the Rio Olympics, 2016 is already full of excitement and personal growth.
"I feel like I am okay and happy with who I am," Phelps recently told the Associated Press. "I feel like I've learned so much about myself, who I truly am. I can honestly say there aren't many people who have seen who I really am."
— Andrea Park