Seth Meyers Introduces Son Ashe Olson: I'm a 'Nurturer by Nature'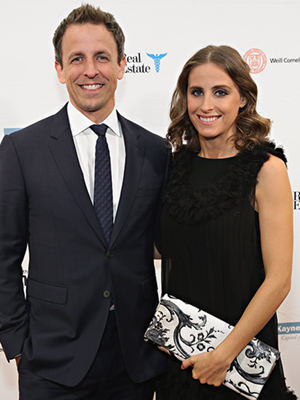 Getty
As if hosting a late-night show isn't enough, Seth Meyers now has his hands really full!
On Thursday, the host of Late Night with Seth Meyers, 42, stopped by Today to talk to Kathie Lee Gifford and Hoda Kotb about his newborn son Ashe Olson, who will be 6 weeks old on Sunday.
Oh, and to share an adorable first photo, of course.
"It's fantastic," he said about fatherhood. "Your life completely changes, but it changes so much less than the mother's life changes. Mine's pretty similar, except there's a baby at home in the morning and at night, but I still go to work."

Kotb laughed and Gifford then noted how parenthood turns a person's world completely upside-down.
"I haven't been great as far as being an assistant to my wife, in that the baby will wake up a couple times in the middle of the night and then I've been adding a third wake-up because I have night terrors about where the baby is," Meyers admits. "So I've been waking up, grabbing my wife's face, saying, 'I don't know where the baby is.' Then I just go back to sleep."
And although he has those middle-of-the-night challenges to deal with, Meyers does say that, to his surprise, he enjoys changing diapers more than he thought he would. "In that there's a beginning, a middle, and an end," he explains.
"When the baby is crying and you can't communicate with it, then I'm frustrated. But at least with the diaper, I know that it started dirty and now it's clean."
Ashe is Meyers' first child with his wife Alexi, 32, an assistant district attorney. And his name has quite the family influence: "Ashe" is Alexi's maiden name, while "Olson" is Meyers' mother's maiden name; contrary to popular belief, his son wasn't named after one of the most famous twins in pop culture.
"Not after Ashley Olsen, no," Meyers tells the Today hosts, having previously joked that he was a "Mary-Kate guy" anyway.
And when Gifford inquires about how he's doing with being able to calm Ashe down when he's fussy, she also asks Meyers whether he thinks he's a "nurturer by nature."
"I think I am a nurturer by nature, yeah," he replies with a smile. " 'Nurture by Nature' was the name of my rap group in high school."
— Jen Juneau