Julie Bowen Shares Just How Tech Savvy Her Sons Are (Then Tries to Recognize Her Boys While Blindfolded!)
Julie Bowen has some learning to do!
On Wednesday, the Modern Family star stopped by Jimmy Kimmel Live! and talked about how modern-day technology has affected her parenting experiences — particularly when it comes to one of her sons.
"Who knows more about technology: Your children, who are young, or your mom?" Jimmy Kimmel asked after Bowen shared an anecdote about her mom tending to text her in all caps.
"Oh, my kids," Bowen, 46, told Jimmy Kimmel without hesitation. "I have a kid … he made a website that, when you clicked on it, it said, 'You are a big pile of turds, so just shut up.' "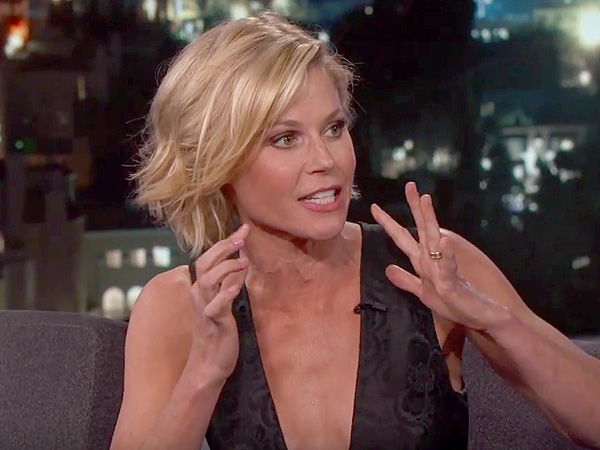 Kimmel jokingly responds, "Oh, he made that? I love that site — 'YouAreABigPileOfTurds.com!' "
As far as how she handled the situation, Bowen addressed the challenge of balancing parental discipline and her lack of tech-savviness.
"So I, very calmly, punished him. I told him he was going to lose all internet privileges and explained to him what child predators were and the dangers of the world that was in front of him," she says, before adding with a laugh, " 'And … and this is coming down … as soon as you take it down because I don't know how to do that.' "
Kimmel admitted he wouldn't know how to create or take down a website either, and postulated about how Bowen's son was able to — before asking her whether she was even sure it's inactive now.
"That's actually a very fair question," she replies after a short pause. "I'm not sure what it was actually called … I think it was called 'You're a Big Pile of Turds, So Just Shut Up.' "
Bowen is mom to sons Oliver, 9, and twins John and Gus, 7 on Sunday. Her husband is software developer and real-estate investor Scott Phillips, whom she married in 2004.
"If we're going to the park, I'm going to be mud-splattered so I'm not thinking about how I'm going to have to physically present myself," she told PEOPLE last August about her "survival-mode" life as mom to three boys.
— Jen Juneau