Emily Deschanel on Having a Baby Months Apart from Sister Zooey: 'We Couldn't Have Planned it Better'
Emily Deschanel and her sister Zooey Deschanel have more in common than just their bloodlines and on-fire careers: They have babies who are only a couple of months apart in age.
"Yeah, we called each other up!" joked the Bones star, 39, on Jimmy Kimmel Live! Monday when the host asked whether the sisters planned to have their babies so close together.
"And from different husbands, as well," Jimmy Kimmel responded.
"Different husbands — to be clear, different husbands!" Deschanel said, noting that having a young baby around the same time as her sister is "amazing" and that they "couldn't have planned it better."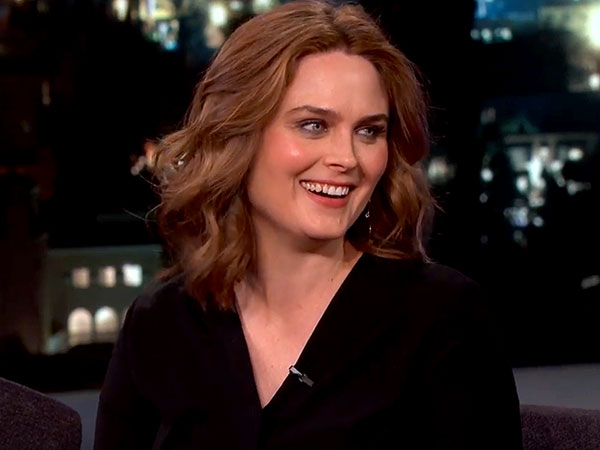 Want all the latest pregnancy and birth announcements, plus celebrity mom blogs? Click here to get those and more in the PEOPLE Babies newsletter.
Emily also talked about how she and Zooey, 36, work near each other on the sets for their FOX shows — Bones and New Girl, respectively — and juggle parenting responsibilities of Emily's son Calvin, 11 months, and Zooey's 9-month-old daughter Elsie Otter with husband Jacob Pechenik.
"We even work on the same lots and we bring our babies to work, and yet it's so hard to get them together," said Emily, who has one other son with husband David Hornsby named Henry, 4½. "Because one will be down for a nap, and one will be up, and vice versa. They take so many naps."
"The napping is very rigid," Kimmel joked. "You can't time their naps, to sync them up?"
RELATED VIDEO: Vanessa Hudgens' Mom's Laugh is Giving Us All the Feels

"Maybe I'm more loosey-goosey and let them nap when they're tired rather than having a strict schedule," Emily said, laughing as she confirmed the fact that she and Zooey pretty much never see each other since they're so busy with their work and babies' schedules.
"On the weekends! On the weekends sometimes," she added. "When they're older, there'll be a lot more time because there won't be as many naps."
— Jen Juneau