Step Aside! Jimmy Kimmel Has 'Been Replaced' as Host By Daughter Jane
Guess Jimmy Kimmel better re-think his job security!
On Thursday, Kimmel posted a photo to his Twitter account, depicting himself sitting in one of the guest chairs on the set of his show, Jimmy Kimmel Live!
In his usual host's chair? Kimmel's 21-month-old daughter Jane, in the studio for Take Our Daughters and Sons to Work Day 2016.
"I've been replaced," the proud dad captioned the sweet shot.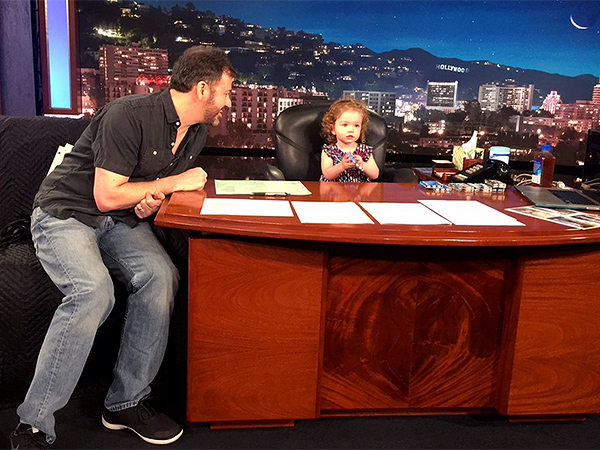 Source: Jimmy Kimmel/Twitter
Want all the latest pregnancy and birth announcements, plus celebrity mom blogs? Click here to get those and more in the PEOPLE Babies newsletter.
In the photo, Jane seems right at home in her dad's chair while he gazes on with delight. Jane is surrounded by neat papers and staring right into the camera, like she's an old pro. Her adorable curls and brightly colored outfit paired with her businesslike expression might just have the world wondering why she doesn't take over more often.
Jane is the daughter of Kimmel, 48, and his wife Molly McNearney, 38, a writer and producer. The couple have been together since 2009, and tied the knot in July 2013.
Kimmel, who is also dad to adult children Kevin and Katie from a previous marriage, told PEOPLE last October that being a father to Jane "does add a little bit of joy to each day. Maybe more than a little bit."
And right after Jane was born, Kimmel couldn't help but share photos of his new baby girl on his show.
"I've been taking somewhere in the neighborhood of 10,000 pictures of her a day," Kimmel said at the time. "She thinks I'm with TMZ now."
— Jen Juneau