How Adam Levine Is Prepping for His Daughter's Arrival: 'We're Just Gonna Jump In'
Adam Levine and Behati Prinsloo are set to welcome their first child, a girl, this fall — and it's obvious that "She Will Be Loved."
On Friday, Levine sat down with the Live! With Kelly and Michael hosts to discuss how he's prepping to become a first-time dad — which is to say, not much at all, when it comes to the practical side of things.
"We're just gonna jump in, and just try to figure it out," the 37-year-old Maroon 5 frontman and The Voice coach told Kelly Ripa when she asked how Levine has been prepping for fatherhood.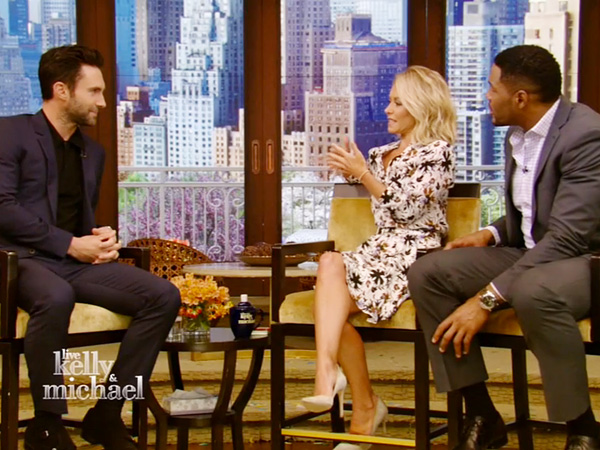 ABC

Want all the latest pregnancy and birth announcements, plus celebrity mom blogs? Click here to get those and more in the PEOPLE Babies newsletter.
In reply to Levine's seemingly laid-back attitude, co-host Michael Strahan asks, "So you're not nervous at all?"
"I'm really not!" Levine responds. "I'll probably be a lot more freaked out when I see the baby and I'm like, 'Oh, there's a baby now!' " He adds that this time with Prinsloo, 26, has been "so much fun," and that his supermodel wife has been lucky to have a healthy pregnancy thus far.
Earlier this month, sources confirmed to PEOPLE that the couple, who have been married for almost two years and whose pregnancy news broke in March, would be having a daughter in September.
And on Thursday's episode of The Tonight Show, Levine told host Jimmy Fallon that Prinsloo has been having some pretty serious cravings for ice cream, but also for a very specific fruit.
"She's eating a lot of watermelon — a lot of watermelon," Levine said. "Because, you know, they get random cravings for stuff and it's just, like, so much watermelon!"
— Jen Juneau