Emily Blunt's Daughter Isn't Quite Ready to Be a Big Sister: She 'Likes Being Top Dog'
Emily Blunt and John Krasinski are expecting baby number two, and everyone's excited – except for maybe baby number one.
The Huntsman: Winter's War actress told Jimmy Kimmel during an appearance on his talk show Monday that her 2-year-old daughter, Hazel, is still warming up to the idea of being a big sister.
"She quite likes being top dog at the moment I think," Blunt explained of her little girl. "I broached it with her and the first response when I said, 'You know, Hazel, there's a baby in there, you're gonna be a big sister.' She looked at me and she went, 'Nope.' And I went, 'Yes.' That was the first talk."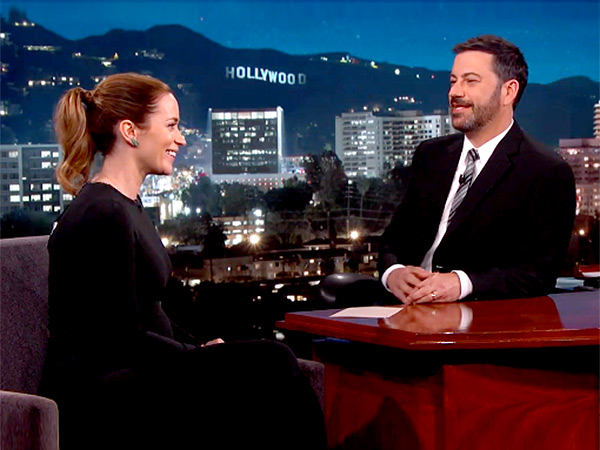 Blunt said she and Krasinski have since bought Hazel "every 'I'm a big sister' book" they could find, and that she's been focusing on spending a lot of mommy-daughter time with the toddler.
"The relationship between you and your first child is the one that changes the most, because now they've got competition," Blunt explained. "So, I was like, 'Okay, I've got lots of time with her now, so I do lots of things with her. So I'll just have baths with her.' "
Yet, even the best laid plans can go awry — especially when it comes to bath time.
"I thought that I was not yet at the point where my body was just really embarrassing to my child, you know how when you become a teenager and you see your parents you're like, 'Ah!' like it's the worst thing in the world," Blunt, 33, shared. "So I got into the bath with her, and she looked at me and she goes, 'Woah, mama big.' … she sounded like Barry White."
Moms Discuss How Their Bodies Have Changed Since Having Children

Blunt's appearance also made an impression on another little one — her Huntsman costar Charlize Theron's son Jackson, 4. The boy was infatuated with the British star because her character's appearance reminded him of Disney's Princess Elsa from Frozen.
"I knew the moment I decided to have white hair that that would be the comparison," Blunt said of the similarities. "Charlize's son was on set a lot and he was obsessed with Frozen. He really thought I was Elsa."
After seeing Blunt in sweatpants, however, the illusion was broken: "He just looked at me and he goes, 'Put on your dress.' He was really bummed about it. 'Put it on now.' "
–– Lindsay Kimble