Did Nina Simone Inspire John Legend and Chrissy Teigen's Daughter's Middle Name?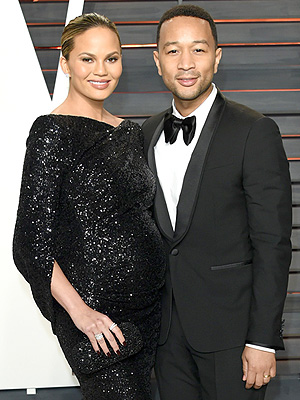 Evan Agostini/Invision/AP
John Legend and wife Chrissy Teigen welcomed their daughter Luna Simone on Thursday, and there may be some clues as to where they got the inspiration for their first child's name.
Legend has long been a fan of musical icon Nina Simone, whose surname is the same as their daughter's middle name.
During his acceptance speech at last year's Academy Awards, the "All of Me" singer referenced Simone's words as part of the motivation behind his and Common's Oscar-winning anthem "Glory," featured in the film Selma.
"Nina Simone said it's an artist's duty to reflect the times in which we live," he said. "We wrote this song for a film that was based on events that were 50 years ago, but we say that Selma is now, because the struggle for justice is right now. We know that the Voting Rights Act that they fought for 50 years ago is being compromised now in this country today. Right now the struggle for freedom and justice is real."
Legend also performed at last year's  Sundance premiere of What Happened, Miss Simone? and deemed the entertainer, who died in 2003, "one of [his] favorite singers; one of [his] favorite singers of all time."
"I find myself studying her versions of all kinds of songs, thinking about her words, thinking about her boldness, thinking about her commitment to justice," he said. "I'm truly humbled to be here tonight to honor her legacy."
Want all the latest pregnancy and birth announcements, plus celebrity mom blogs? Click here to get those and more in the PEOPLE Babies newsletter.
Legend, 37, and Teigen, 30, announced the arrival of their daughter on Sunday when they both shared messages on social media, however neither of them have said if the late singer inspired Luna's middle name.
"Our new love is here! Luna Simone Stephens, born on Thursday, the 14th. We couldn't be happier," Legend wrote on Twitter.
–Naja Rayne