Jeremy Renner on Parenting Daughter Ava: 'The Best Thing Is Being a Dad'
Jeremy Renner is a dad first and foremost.
The actor spoke with E! News at CinemaCon this week while promoting Story of Your Life, opening up about fathering his 3-year-old daughter, Ava Berlin.
"That's the most important thing in my life," Renner, 43, said about fatherhood. "I still don't expose my baby's face, just to protect her, or anybody in my family's face that's a minor."
He added: "I just think that's not my decision to make. You don't need to be world famous because your jackass dad is … that's my baby. The best thing is being a dad."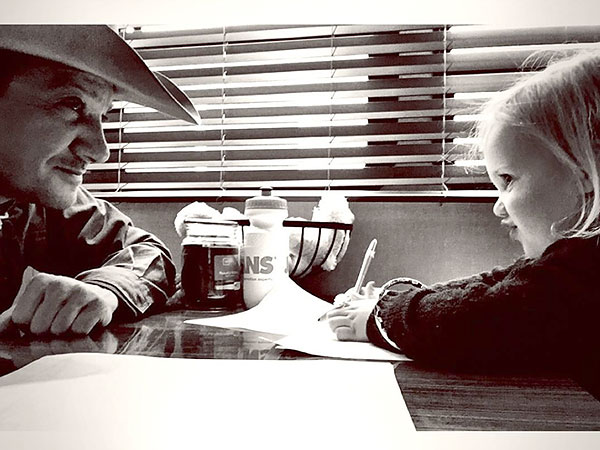 Source Instagram
Renner's Instagram account features only a handful photos of his young daughter. Last week, he uploaded a snap of little Ava visiting him on set.
"Set visit. Daddy daughter day. #read #write #bellylaugh #lovemyjobbue," he captioned the photo.

Despite seeing her father on the job, Renner said he isn't sure whether Ava has the acting gene.
"I don't know. She's three so, I mean, I think she's definitely artistic for sure … I'd love to steer her away from that. But I'll never say no," he tole E! Online.
He added: "First and foremoset I always want her to be a kid and have a lot of fun."
–Char Adams