Coco Rocha on Bringing Her Daughter to Work: 'I Love the Fact That I Can Have Her Around All the Time'
What's Coco Rocha's secret to balancing work and mommyhood?
"I think the greatest thing is that I work with my husband [James Conran] 24/7 through [the] good and bad," Rocha told PEOPLE at her Co+Co Street Wear Collection Launch at RonRobinson in Santa Monica on Thursday.
"We're always together and that also means Ioni gets to be around," adds Rocha, who welcomed her baby girl, Ioni James, last March.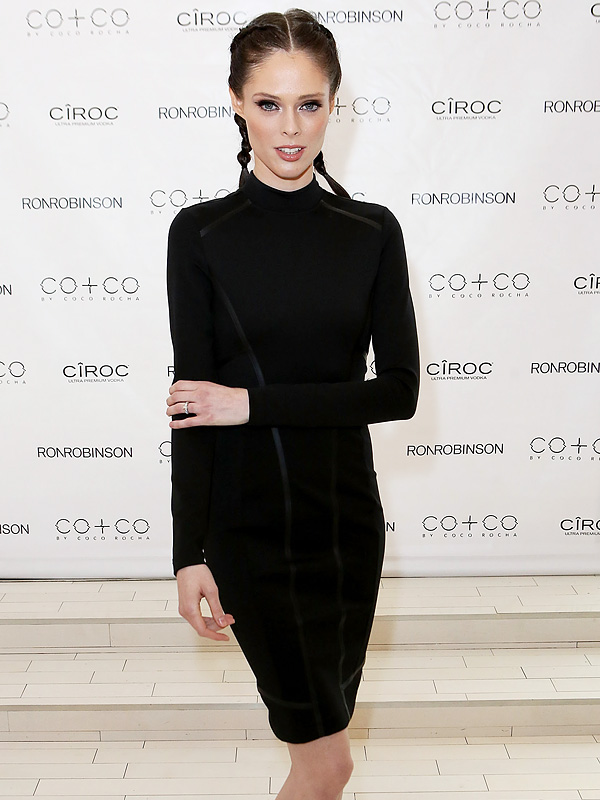 Ari Perilstein/Getty<
The couple's little one even recently joined them during a meeting for her clothing line, Co+Co.
"It's not necessarily every day like that, but it's just the fact that I can do that — so I take that opportunity," explains Rocha.
"I know that there are moms out there who only wish that they could have their babies come to work and that's just not an option," she continues. "I love the fact that I can have her around all the time — so why not do it?"
Growing up, the model, 27, also went to work with her mom at times.
"My mom is a flight attendant. I couldn't necessarily come to work, but I did," shares Rocha. "There were days when she didn't have a babysitter so she put me on board on a flight to Asia, and I was brought back home with her."
"Even those moments you think back and you're like, 'How silly, but amazing at the same time that I could go to work with you,' " she explained.
And Rocha hopes that one day when her daughter is older, she looks back and thinks, it was "great that I got to bond with Mommy and Daddy — and not hang at home." Although, she adds, "We have great help even when that isn't possible."
Want all the latest pregnancy and birth announcements, plus celebrity mom blogs? Click here to get those and more in the PEOPLE Babies newsletter.
Along with Ioni going to work with Rocha and her husband, being flexible with their schedule has also worked for the couple.
"I think that the one thing people should do is just not have this repetition of a schedule," she says.
"Let things happen. I mean schedule bath time and night-night time and feeding time, but when it comes to moving around and you're like, 'Oh, I can't leave the house it's almost bath time.' Let it loose a little and I think that that's worked for us," she explains.
As for her baby girl's latest milestones? Rocha can't believe how fast she's growing up.
"She's a year old," shares Rocha. "I hate when people say, 'Time flies.' But it's weird. Time flies."
"Eleven months she was walking. Ten months she was crawling and now she's just starting to really [connect words] … It's crazy," she says. "You're like, 'You're just 1.' "
Adds Rocha: "I don't know what I was expecting — you do look back and you're like, 'Of course she's going to crawl.' But you just don't know when these milestones are going to approach you and then they do and you're like, 'Wow. What just happened?' "
— Mariah Haas