DeAnna Pappas Stagliano Introduces Son Austin: Having a Boy Is a 'Whole Different Ballgame'
She gave birth to her second child a month ago, and DeAnna Pappas Stagliano is still getting used to the, ahem, challenges of life with her first son, Austin Michael.
"The game of changing a boy's diaper is very different," the former Bachelorette star tells PEOPLE exclusively. "Girls is one fast swoop, boys — there are all these nooks and crannies. I get pooped on every day. It's a whole different ballgame."
Anatomy lessons aside, Pappas Stagliano, 34, and her business manager husband, 32, are coping just fine with their newly minted family of four.
"When we brought [2-year-old daughter] Addison home, Stephen and I were terrified," says Pappas Stagliano. "This time, we have the same stressors and we're still tired, but I feel like I have things way more under control. It's a nice feeling."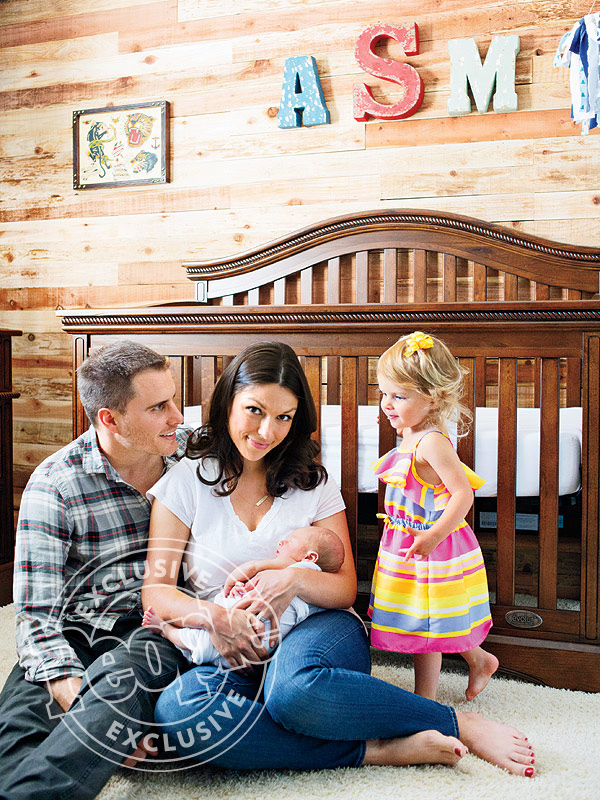 Leigh Castelli Photography
RELATED: DeAnna Pappas Stagliano's PEOPLE.com Pregnancy Blogs
As for Addison, she's "obsessed" with her baby brother, says Pappas Stagliano, who poses with her family in Austin's rustic chic nursery, which includes his Windsor crib from the new furniture brand évolur, in this week's issue of PEOPLE.
"She took one look at the baby in the hospital and started kissing him on the head," the mom of two shares. "We were sobbing, we were so happy. And ever since then, she just wants to hold him and kiss him. She's doing really well."
And so is Dad! "I can't compliment Stephen enough," says Pappas Stagliano of her husband of four years. "It all came back to him so naturally. And he's very helpful."
Adds Pappas Stagliano: "We parent really well together. I've always said to him, 'I don't want to play good cop, bad cop. I don't ever want to be played against one another, no matter what happens. And it's been a pretty flawless transition!"
For more from DeAnna Pappas Stagliano, pick up the latest issue of PEOPLE, on newsstands Friday.
— Aili Nahas