Pregnant Jillian Harris Stands Up to Critics: 'I'm Going to Drink My Damn Coffee!'
Although Jillian Harris says her first pregnancy is a very exciting time in her life, she's already facing people criticizing her choices.
"Today has been rough because I posted a picture of me this morning in the car with a cup of coffee, and then later on I posted another pic of a coffee. All of these people are like 'You shouldn't be drinking so much caffeine,' " Harris, 36, told PEOPLE on theset of her Mr. Clean's Dirty Little Secrets campaign.
"I'm like, well, first of all, it could be decaf. Second of all, I stopped drinking alcohol, I stopped partying, I don't do Botox anymore … I'm going to drink my damn coffee!"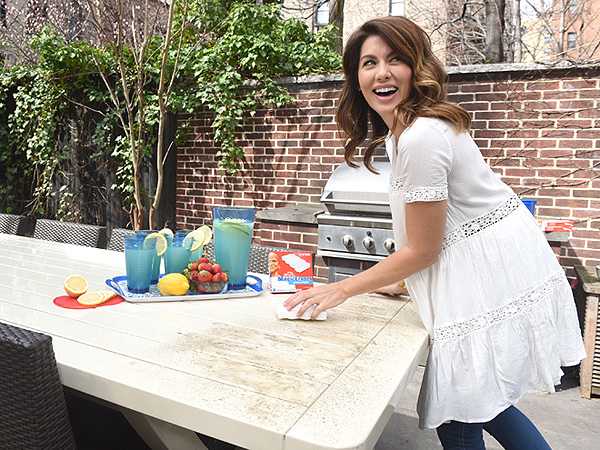 Photo by Diane Bondareff/Invision for Procter & Gamble/AP Images

The former Bachelorette, who now runs an online blog and hosts HGTV's Love It or List It, Too, says she's also had people comment on her dyeing her hair, which she previously ran by her doctor.
"I'm not an idiot. I'm not stupid — I'm a grown adult. I think I know what's right and what's wrong," she says.
Although Harris will normally "just let it slide," she says her immediate reaction is to get defensive.
"It's funny because I don't like people telling me what to do," she explains. "But then I have to remember that most of the people that are following me are doing it because it comes from a place of love and they're just trying to show me that they care. I try to take a step back and say, 'Thank you so much for your advice, I'll remember that.' "
Aside from dealing with the criticism, Harris and boyfriend Justin Pasutto are excited to see how their new addition (arriving in August!) is going to change their busy lives.
"I've had so much advice from everybody, but the one thing that's been consistent is my sleep is going to change, which scares me because I love sleep," she says. "We travel a lot, we work in different cities — we kind of live in two different cities — and I know that that's going to change."
But Harris says she's lucky her lifestyle can adapt: "If I have to work less, then I can. If I can bring the baby with me more, then I can as well, so I'm just curious to see if I'm going to keep on working this much or am I just not going to work?"
She adds, "And there are some days where I feel like maybe I just won't do Love It or List It, Too anymore — maybe I'll just be a stay-at-home mom. Then there are other days where I think I'm going to get a nanny and do it all."
Advice Harris and Pasutto already took from their friends was adding a furry member to their family.
"Everybody said, 'You should get a dog! And wait until you get a dog,' " she says. "Nacho has made us into a little family and so I feel like okay, we did the dog thing, we've lived together for four years, let's try a baby now! Let's shake this up."
The couple previously said they're waiting to find out the baby's sex, but the mom-to-be feels like she might be carrying a girl.
"We both desperately don't want to find out, but so far we've been calling the baby 'he' the whole time. Justin really wants a boy. I've just been like whatever, it doesn't matter to me — I just want it to be a surprise," she says.
"But everything that I'm reading, like down to my cravings to how I'm carrying to some of my symptoms, everything is telling me it's a girl."
Harris says Pasutto almost let the exciting news slip to her fellow Bachelor alums before they were ready.
"We were at the 20th reunion and I said to Justin, 'We haven't even told our parents yet, so let's just keep it on the down low,' and then Justin got really drunk and said to Chris Harrison, 'We're having a baby!' "
But the Bachelor alum is not alone — Catherine Giudici Lowe, Ali Fedotowsky, and Ashley Salter are all pregnant, and DeAnna Pappas Stagliano just recently gave birth to a baby boy.
"DeAnna was just giving me all kinds of advice," Harris says. "You get so much advice! There's some that I'm like, 'That's not right for us,' but you listen to it all and then you take it all into account. Then when the baby comes, you're ready. You're like, 'I've heard this somewhere!' "
— Jessica Fecteau