Jamie Oliver and Wife Jools Announce They're Expecting Fifth Child — and Then Hit the Red Carpet!
Jamie Oliver is going to become a dad for the fifth time!
A rep for the world-famous chef, 40, and wife Jools, 41, confirmed the news Thursday, mere hours before the couple popped up on the red carpet at the London premiere of Eddie the Eagle. The baby is expected in August.
With her vibrant jacket left open, Jools' growing baby bump was on display in a form-fitting black jumper, which she paired with red high heels. Meanwhile, her husband smiled wide in a dark blue suit with a black lapel.
The beaming husband and wife are already parents to Poppy Honey Rosie, 14, Daisy Boo Pamela, 12, Petal Blossom Rainbow, 6, and Buddy Bear Maurice, 5.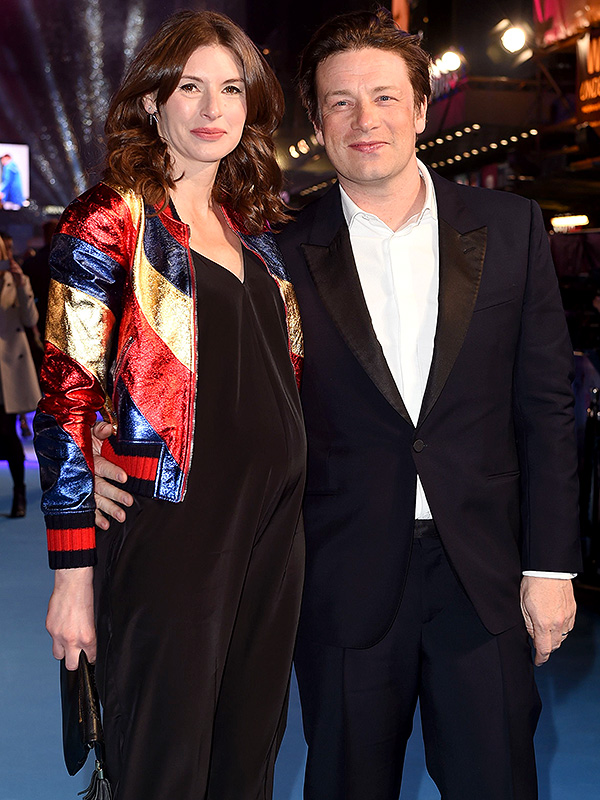 Jonathan Hordle/REX/Shutterstock

Speaking to Sharon Osbourne on ITV 1's Lorraine after the birth of Buddy in 2010, Jamie revealed who is responsible for their children's unique names.

"That would be my wife," he shared. "Jools is definitely in charge of the names, and we're probably quite lucky it was a boy really, because we were out of names [for] girls."
Jamie, known for his infectious sense of humor, once took a culinary-focused approach to parenthood: in 2014, he revealed that he put one of the world's hottest peppers in Poppy's food to discipline her.
"Poppy was quite disrespectful and rude to me and she pushed her luck," he reportedly said on BBC's Good Food show. "In my day I would have got a bit of a telling-off but you are not allowed to do that. Five minutes later she thought I had forgotten and I hadn't. She asked for an apple. I cut it up into several pieces and rubbed it with Scotch Bonnet and it worked a treat."
But he ended up getting in trouble. "She ran up to mum and said, 'This is peppery.' I was in the corner laughing. [My wife Jools] said to me, 'Don't you ever do that again.'"
— Nick Maslow