Chrissy Teigen Is 'Happier Pregnant': 'I Truly Embrace This Body'
Mom-to-be Chrissy Teigen is loving her bump!
Unlike her pal, Kim Kardashian West, who said she felt "miserable" while pregnant with her son Saint, Teigen says that she loves how she feels right now.
"I'm way more calm now," she tells PEOPLE exclusively of being pregnant with her daughter, who she "picked from her little embryo." "I like that there's no pressure now."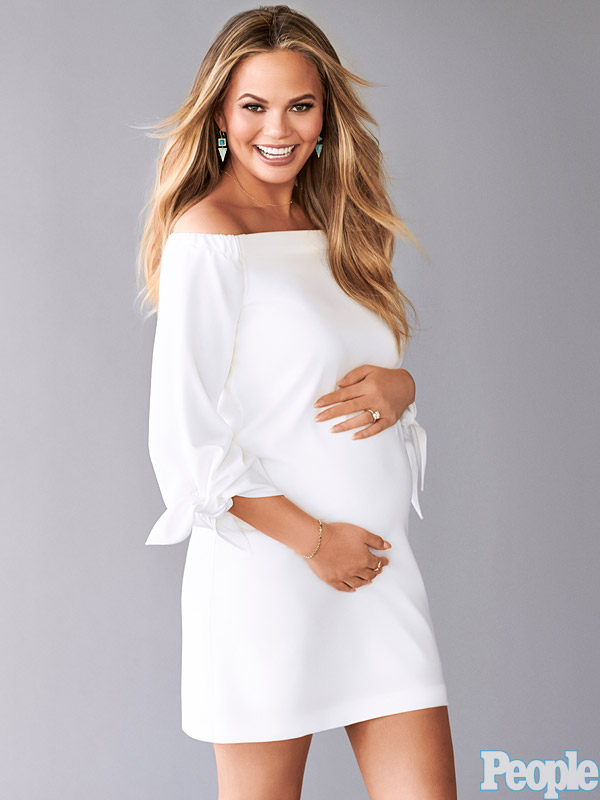 Anders Overgaard
And that's because being pregnant gives her a break from the usual physical expectations that come with being a swimsuit model — she posed for Sports Illustrated in essentially only glued-on rhinestones as a bikini bottom while giving herself IVF shots.
"I felt unfit all the time before. It's nice to relax and feel like you don't need a six-pack," the cookbook author says. "I truly embrace this body. I think I might be happier pregnant. I love it."
Even so, "A 32C bra would be nice to wear again," she jokes.
For Teigen, the key to being care-free has been avoiding comparing her body to other pregnant women. Although she "wouldn't recommend it," she has been taking to Google to gauge where she is with her size.
"I Google '18 weeks pregnant' and then go to images," she says. Rather than discourage her, "It helps me because everybody is so different and all over the place. It's such a range."
For more exclusive info from Teigen, including two recipes from her new book Cravings, pick up the latest issue of PEOPLE, on newsstands Friday.
— Catherine Kast