Kim Kardashian West Catches Kanye and North Napping During Shopping Trip with John Legend and Chrissy Teigen
All that tweeting has Kanye West worn out!
Wife Kim Kardashian West caught the rapper and daughter North taking a snooze Sunday during a shopping trip to baby boutique Bel Bambini with pals and parents-to-be John Legend and Chrissy Teigen.
"So today we went baby shopping with @johnlegend & @chrissyteigen," Kardashian West, 35, wrote on Instagram. "Kanye & North were a little too quiet. We found them passed out in the middle of the store #TheRealLifeOfPablo."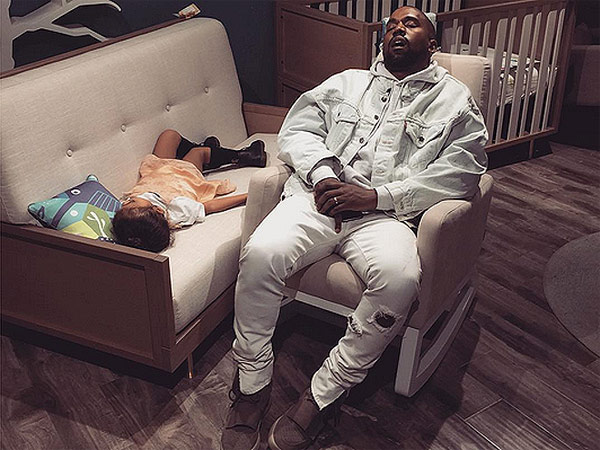 Source: Kim Kardashian Instagram
In the accompanying photo, West, wearing all white, reclined in a rocking chair with his mouth open and eyes shut. North, 2, sprawled out on the sofa next to her dad in a peach dress and black boots.
The "Famous" singer apparently has no problem catching z's in public: He's even been found sleeping at parties!
What's Kanye West's Favorite Look on Kim Kardashian?

The shopping trip is just the latest effort by Kim — who also shares son Saint, 3 months, with Kanye — to help Teigen out during her pregnancy. In addition to advising the model and mom-to-be on feedings, the reality starlet also dished out maternity fashion advice.
"She told me to go stretchy," Teigen revealed to InStyle Australia. "I always wanted to be the person who showed off the bump because it looks beautiful and I think you should embrace it. Kim does that well and I love seeing that belly of hers and I know Kanye does too — we're lucky to be with men who find pregnancy sexy."

— Lindsay Kimble