David Beckham and His Adorable Kids Sit Front Row for Mom Victoria's Latest Fashion Show
When Victoria Beckham kicked off her latest fashion show on Sunday, she had five front-row supporters: husband David and their four children, Brooklyn, Romeo, Cruz and Harper.
The clan, each looking pretty stylish on their own and coordinated in blacks, lined the runway to see the collection for Victoria's brand, Victoria Beckham.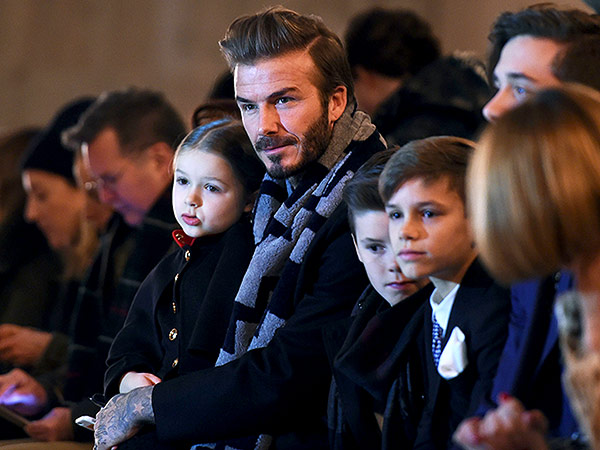 JEWEL SAMAD/AFP/Getty
Romeo, 13, rocked a tie and pocket square while Harper, the youngest at 4, got comfy in dad David's lap — when she wasn't hanging out backstage with her mom.
Victoria, 41, busy for the big day, wore a more sensible pair of shoes for the show.
"I came out of my hotel this morning and the wind hit me. My trousers stuck to my legs like leggings and even my hair parting felt instantly frozen," she said, according to Vogue, adding, "I started out the week in heels."
The Beckhams, a famously supportive brood, don't just turn out to cheer on Victoria. All five were together in November to support David, 40, following his global travels with UNICEF, for the final of his seven matches on seven continents.
Brooklyn even joined his dad's team for the charity match, helping them to victory.
— Adam Carlson