Former Bachelorette Trista Sutter on Being More Than 'Just a Mom'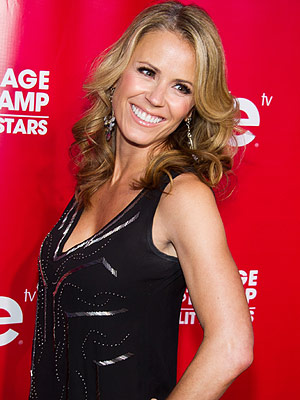 Charles Sykes/Invision/AP
A year ago, Trista Sutter asked her two kids, Max and Blakesley, what they want to do when they grow up — and when her son told her he hopes to be just like her and "do nothing," she was shocked.
The former Bachelorette, who married her firefighter beau Ryan Sutter in a televised wedding after the reality franchise's inaugural season in 2003, opened up about the experience in a recent TedxVail talk titled "The Value of YOU."
"It was a couple of days before the first day of school and … I was preparing the Pinterest-inspired poster boards that my kids would naturally hold for the obligatory photo commemorating the day. I planned to include the year, their grade, and just for fun, what they wanted to be when they grow up," the Happily Ever After: The Life-Changing Power of a Grateful Heart author said of her and Ryan's two kids: Max, now 8½, and Blakesley, now 6½.
"So I asked them both. Blakesley, our very ambitious girly-girl, immediately jumped up and said that she wanted to be a dancer, a singer, a teacher, an artist, a movie-maker, a nail person, a hair person, a veterinarian, a physical therapist and a mom. Max, our introverted boy's-boy, took his time," Trista, 43, recalled. "Finally, after a few minutes, he looked up at me and said: 'I want to be like you, Mom. I want to do nothing.' "

"Wait — what? How could he have said that I do nothing? Does he think that I do nothing? That I'm just a mom? And there it was, those three little words: 'just a mom,' " Trista said.
"Doesn't he know that I do anything but do nothing, especially when it comes to our home and our family? I mean, I know I don't have a flashy title like race car driver, inventor, or CEO or lawyer or even firefighter, like his dad, but it's not like I sit around on our couch all day long. Just like all the other hardworking, stay-at-home parents I know, I spend my days picking up this, putting that away, cooking, cleaning … and anything else necessary to help keep a roof over my family's heads, food in our bellies and smiles in our faces."
According to the former reality star, the "just a mom" label is something she found herself desperately trying not to assign herself.
"Really, I'm most-known for handing out roses on the first season of a reality show called The Bachelorette, where, crazy enough, I met and fell in love with the man of my dreams … and now, I'm just a mom." she said.
"I said that I was just a mom as a way to protect myself and beat my fellow [TedxVail] speakers to the punch in judging me. They were renowned … I was infamous from reality TV and I felt like if I let them in on how worthless I was feeling in comparison to them, then maybe it wouldn't hurt so much if they came out and said they felt that way themselves," she admitted.
Trista said she's been working on not "cowering" to her own negativity and urged others to do the same: "Ever said that you were just a something? If so, then you should know that what I've learned is instead of protecting yourself, you're actually the one holding the hammer that's chipping away at your own self-worth."
The mom of two has also learned to make sense of her son's comment: "With a little reflection I have since chosen to believe that in Max's case, what he said was an incredible compliment. He saw being just a mom as being happy and fulfilled, giving the phrase the most positive of connotations."
And Trista's hubby has got her back, too — in fact, he was the one to nominate her as a speaker for the TedxVail talk.
"Love you @ryansutter," Trista captioned a picture of a bouquet of flowers from Ryan on Instagram earlier this month. "Without you, your @tedxvail nomination & your belief in me, I wouldn't be here today. I hope I do you proud. #ilovemyhusband #grateful #itsagooddaytochangelives #thevalueofYOU."
— Aurelie Corinthios