How Fatherhood Has Changed John Krasinski: 'You Have to Lead by Example'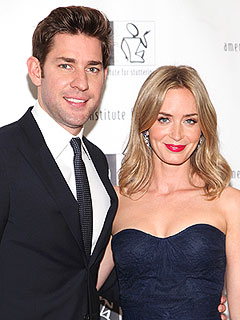 Taylor Hill/FilmMagic

John Krasinski's life has changed a lot in the past two years.
The former Office star admits he went through a bit of an "existential crisis" after welcoming his daughter Hazel with wife Emily Blunt in February 2014.
"I went through some really serious stuff," Krasinski tells PEOPLE. "There is a mirror that is held up to me now. You have someone watching you. You have to lead by example."
So, Krasinski says, he is focusing on "becoming a better person every single day."
Being a dad to 23-month-old Hazel has also opened Krasinski's eyes in many unexpected ways.
"I got to understand my parents better. I got to understand my wife better," says the actor. "I got to understand how lucky I am to be in the fox hole with someone I can rely on 150 percent."
He also credits his daughter for making him a better actor and director as he began working on The Hollars, which just screened to rave reviews at the Sundance Film Festival.
"I had my daughter in February and then we shot the movie that April," says Krasinski, who stars as a father-to-be whose mother (Margo Martindale) falls ill. "Those [few] months changed my life. They are the reason the movie is what it is."
— Patrick Gomez