Thompson Square's Keifer and Shawna Welcome Son Rigney Cooper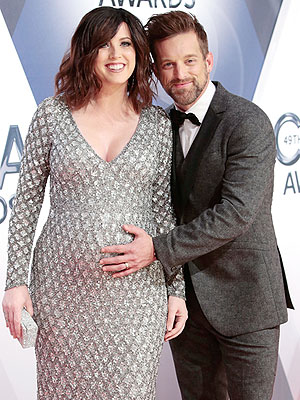 Taylor Hill/Getty
Country duo Thompson Square have welcomed their newest member.
Keifer and Shawna Thompson are new parents after welcoming their first child, a baby boy, on Sunday, Jan. 24 in Nashville, their rep confirms to PEOPLE.
Son Rigney Cooper Thompson was born at 2:46 a.m., weighing in at 7 lbs., 13 oz. and measuring 19 inches long.
"God blessed us this morning with a little miracle," the couple said in a statement to E! News, adding that Rigney is Shawna's grandmother's maiden name.
"It's hard to explain this kind of love. We're so overjoyed. He's already got us wrapped around his little finger."

Although they looked to the family tree for their son's moniker, the couple have been referring to their son by his middle name, Cooper, on social media.
"I already got Thompson in there, so I said Shawna gets to pick the name as long as it's not something crazy like these people in Hollywood do all the time. No Moonbeam for us!" says Keifer, 39, told PEOPLE last fall.
"Though I think it would be fun … maybe we should go with something really weird and random. Toothpaste Thompson. That is a great alliteration — and we are songwriters, you know."
In a statement to fans following the birth of their son, the couple shared a family photo and said, "We're so excited to be able to share this monumental day with all of you. We've had many wonderful things happen to us but this absolutely tops them all. We want to thank you all for being there for us and our music and for all of your support during our pregnancy."
Added the "Are You Gonna Kiss Me or Not" singers, "We can't wait to see you out on the road this year but until then … Please say hello and welcome to this big ol world, Rigney Cooper Thompson aka #coopert #cooperman #coopdeville #coopdog #sircoopsalot."
The pair announced the pregnancy back in August, with Shawna, 37, telling PEOPLE at the time, "We're really, really excited."
She continued, "We've been together for a long time and we've done a lot of things, and we just really felt there was something missing. We love what we do, we love the music business, but we didn't want to deprive ourselves of having a family."
The Thompsons, who have been married for 16 years, have already begun plotting ways to bring their son along when they hit the road on their tour bus.
"We're going to have to design a whole new bus," Keifer previously told PEOPLE.
"We're going to need to turn one of the bunks into a crib, and we'll need a changing area," Shawna added. "It's going to be interesting."
— Lindsay Kimble