Baby Squats! Savannah Guthrie and Jenna Bush Hager Enlist Their Daughters for Adorable Fitness Segment
Today's newest corespondents are too cute — and happy to grace the small screen.
Savannah Guthrie and Jenna Bush Hager brought their babies along for a sweet mother-daughter workout session in Today's latest #StartToday segment.
With the aide of Guthrie's daughter Vale, 17 months, and Hager's 5-month-old daughter Poppy Louise, the hosts joined fitness guru Taryn Toomey for some planks and squats with the weight of their little ones.
"We like to work out together every once in a while, but we've never done it with an accessory called a baby," Hager explained before utilizing her baby as a fitness tool.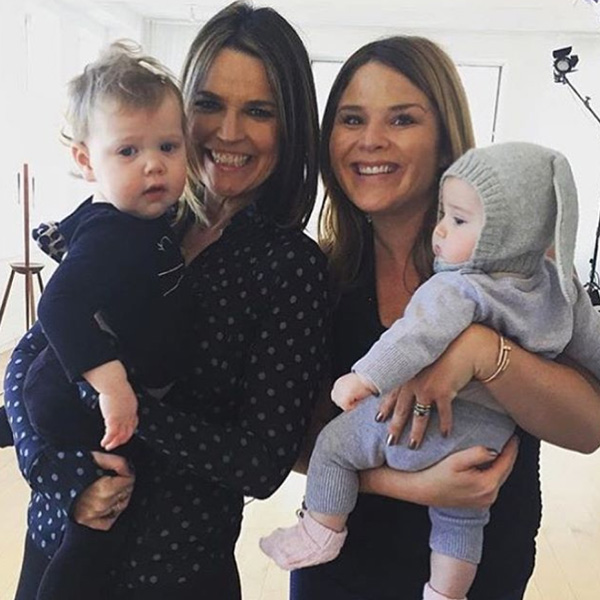 Source Instagram
But while Poppy was happy to hang with Mom, Vale made her way right into the trainer's arms, leading Guthrie to joke about her daughter's hidden agenda.
"Did you go for the mommy with better thighs?" she says with a laugh.
Guthrie also shared a photo of the fabulous foursome on Instagram, showcasing the little girls' adorable play clothes.
"I love pretending to work out w @jennabhager," she jokingly wrote.

Hager re-shared the image, adding that, "Mom friends are the bomb."
Hager, 34, also met with Erin Whitehead, trainer and founder of Fit Bottomed Mamas, during the segment. Whitehead suggested putting down the little ones and instead incorporating simple fitness moves into everyday chores, like folding the laundry.
— Lindsay Kimble