Ivanka Trump Expecting Third Child
Baby on the way for Ivanka Trump!
The businesswoman and her husband, Kushner Companies CEO Jared Kushner, are expecting their third child, she confirms to PEOPLE.
"Jared and I are thrilled to announce that we'll be welcoming baby number 3 to our family early next year. It's an incredible blessing," she tells PEOPLE exclusively. "We feel so grateful — and so excited!"
Trump, 33, also announced the news Thursday on her Facebook page, sharing an adorable video featuring her and her two kids.
In the sweet clip, Trump and her cute helpers hold up number signs with the brood's birth order: 4-year-old Arabella holds up the number one, her brother Joseph, 23 months, holds up the number two, and Trump holds up the number three in front of her growing belly. (Outtakes of the video are featured on her website, IvankaTrump.com.)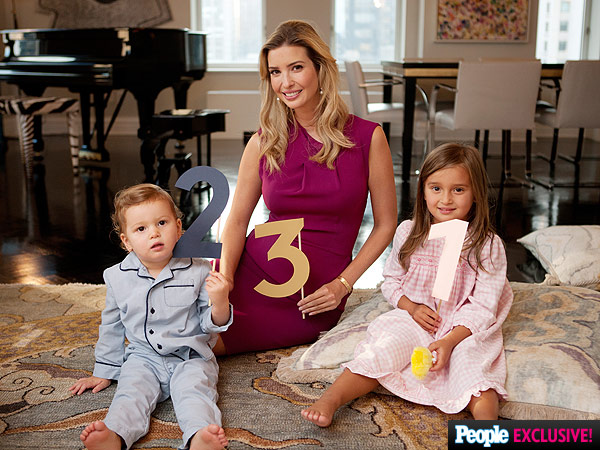 Nathan Kraxberger
"We wound up having such a fun time in the five hilarious minutes that we were filming, that I had to share the moments that didn't make the cut … Arabella is a ham and was totally camera-ready, but I had to resort to bribery to get Joseph to cooperate," Trump writes in her announcement post.
"I usually try to feed my kids healthy food, but I gave Joseph his first lollipop ever in exchange for his best behavior. It's the mommy trick we all say we'll never do, but when you have multiple children, it's pretty hard to be above it — it just works too well!!"
The fashionable and fit mom, who's been married to The Observer Group owner Kushner since 2009, shared on her site that her kids already have strong opinions regarding the household's newest member.
While they are excited about welcoming a new sibling, Trump says the kids are split about whether it should be a sister or brother: Arabella is rooting for a baby girl, while Joseph would love to have another little man around the house.
"I consider myself incredibly fortunate to have a career that I am deeply passionate about, but, at the end of the day, it's my family that is at the center of my life — and to be adding another baby to our family is a tremendous blessing," she writes. "Jared and I are so thankful, and so excited!"
— Mary Margaret