Jill (Duggar) Dillard's Son, Israel, Is Already 5 Months Old — Look How Much He's Grown!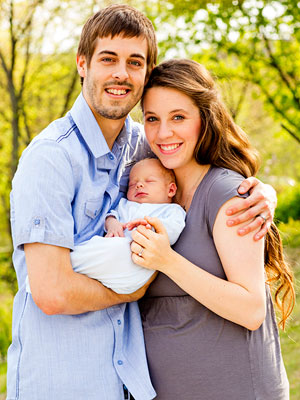 TLC/Larsen&Talbert
They grow up so fast!
Jill (Duggar) Dillard shared a photo of her son, Israel David, on Tuesday in celebration of him turning 5 months old.
"Our little man is getting so big! Can't believe he is already 5 months," the new mom captioned the photo.
The picture shows a side-by-side of baby Israel, with one photo showing him at one month and another showing him bigger and smiling this week.
Dillard welcomed her first child with husband Derick Dillard in April. The 24-year-old's thoughts on motherhood and fears that she had during her 70-hour-labor were documented in the TLC special 19 Kids and Counting: Jill's Special Delivery.
Since then, the family of three has moved south of the border for an extended mission trip in Central America.
Their big move came as Dillard and her family were embroiled in a storm of controversy after her brother Josh admitted to molesting five underage girls as a teen and later confessed to having an Ashley Madison account and being unfaithful to his wife and mother of his four children, Anna Duggar.
Dillard and sister Jessa (Duggar) Seewald revealed that they were among Josh's victims, and while Seewald appears to have publicly broken ranks with her brother, Dillard continues to support Josh, who checked into rehab at the end of last month.
In a post on her family blog Dillard noted that August "ended on a sad note" for her family and asked people to pray for her family during these "difficult days."
— Naja Rayne