Jason Sudeikis Says His and Olivia Wilde's Son Otis Is Already a Hoops Fanatic: 'He Loves Dunking Basketballs'
Jason Sudeikis and Olivia Wilde's son Otis Alexander wasn't interested in walking – that is, until he discovered the sweet taste of athletic victory.
During an appearance on The Tonight Show with Jimmy Fallon Thursday, Sudeikis said that the 16-month-old was a late walker, and wasn't inspired to get moving until he got his first basketball.
"I'm trying not to do the thing where I'm pushing him too much, but what was nice and — as I'm sure you know and anybody that has kids knows — you get to watch evolution happen in front of your very eyes," Sudeikis, a basketball fan and amateur player, told host Jimmy Fallon.
"Because he was crawling forever and he got really quick at it. And then he had little friends in the neighborhood that were all walking, all the same height as him and just buzzing around. I got like, 'Oh boy, Otis, let's go.' "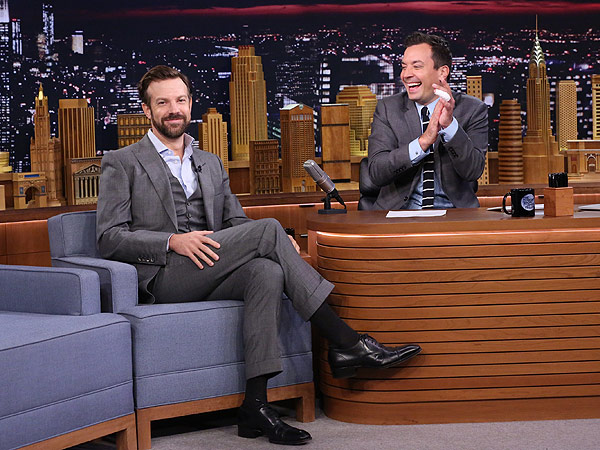 Douglas Gorenstein/NBC
Sudeikis jokes that he first wondered, "Is this my fault, am I not walking enough in front of him?" but after giving Otis a toy basketball, the toddler figured out how to work his legs all on his own.
"He realized in order to get this little tiny basketball from one side of the room to the other, 'I need to use both hands and the only way to use both hands is to not crawl and therefore walk,' " he told Fallon.
After the boy took his first steps in May, the Sleeping with Other People star bought Otis a mini basketball hoop.
"I put it in his little room and that's what got him walking," he said. The actor insisted that Otis' dunking prowess has quickly gone to his tiny head, though. "He loves dunking basketballs."
"I love him going strong to the hoop, but the showboating has got to stop," Sudeikis joked to Fallon of his son's slam-dunking abilities, which he captured on video.
The Horrible Bosses 2 actor said that Otis walking hasn't been all smooth sailing.
"He's running around, getting into trouble," "he said. "Danger. He's looking for danger. We're just trying to keep him alive, that's our goal. that's all we're commissioned to do."
Fiancée Wilde, 31, and Otis were backstage cheering dad on for his appearance. The actress shared a photo of the tiny tot watching his dad charm the Tonight Show audience.
"Cheering Dad on in the dressing room at @fallontonight for his awesome new movie Sleeping with Other People which is very very funny and everyone should go see it Sep 11th," wrote Wilde.
– Lindsay Kimble