Elisabeth Röhm's Blog: A Trip to Honor My Mother (and Make Memories!)
Look who's back: Our celeb blogger of three years, Elisabeth Röhm!
The American Hustle and SAG award-winning actress is set to star alongside Jennifer Lawrence in the new David O'Russell film, JOY, in theaters Christmas Day.
Röhm's book, Baby Steps: Having the Child I Always Wanted (Just Not As I Expected), is available now.
She can be found on Facebook, Google + and on Twitter @ElisabethRohm.
In her latest blog, Röhm — mother to 7-year-old Easton August — travels to Washington, D.C., and hopes the trip will leave a lasting impression on her daughter.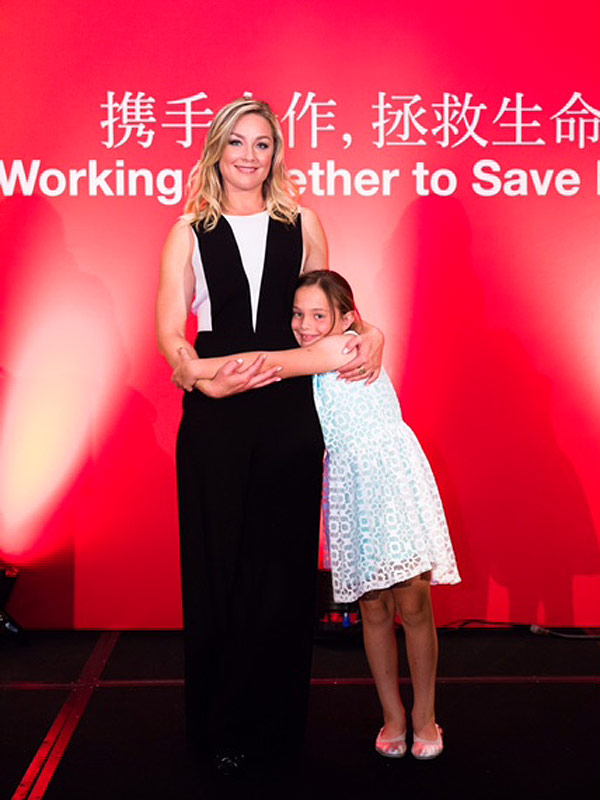 Courtesy Elisabeth Rohm
We will never forget … always in our memory.
Summer is all about the small and big adventures we share with our little ones, getting lost a little bit, wandering together and making time for each other. Making memories.
Some of what we most look forward to are the trips we can take, perhaps traditions shared every summer or the lasting impression of new lands, new borders, new tastes and smells as we watch our lil one's world become a bigger, brighter, broader place.
I remember summer as being such a significant time of the year in my family. Things are less busy, and Mom and Dad always had more time for me. From the long drives in the car to Vermont, to visiting my Aunt Laurie and cousin Jaime in Memphis, to an epic trip I took with my father to Japan where I discovered I was a towering blonde amazon.
Not to mention, my 16-year-old coming of age trip to Greece, and we'll leave it at that, if you know what I mean!
As I looked ahead at the easy breezy months of Easton's vacation, I was so excited to add Washington, D.C., to our list for many reasons. One was the extra special and meaningful reason why we were invited. I was asked by the American Heart Association to speak on their behalf of my mother's memory and the importance of CPR training and how it might have affected our family on a deeply personal level.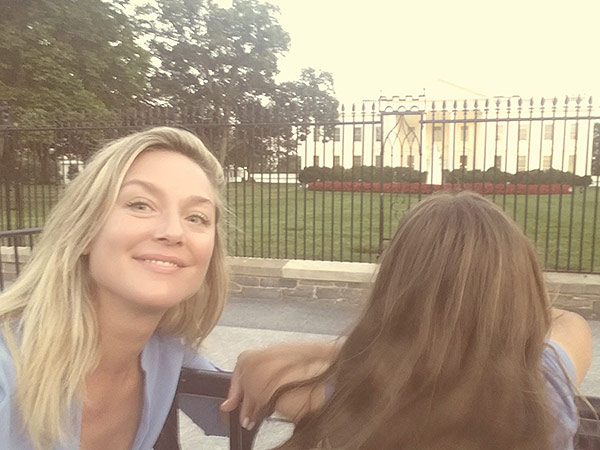 Courtesy Elisabeth Rohm
I know I've talked to you ladies about that here, PEOPLE.com. It would be meaningful to me, and I hoped it would be inspiring for Easton one day when she too looked back on the memory of going to D.C. to hear her Mom give a speech about her Grandmother.
Losing my mother to heart disease at far too early an age was especially painful because it was long before Easton could really create a deep lasting recollection of her. Also, I wanted to share with Easton how we can turn our hurt and loss into helping others. I know we've discussed the question of how do we turn our kids into future philanthropists and people of service, and this seemed to be a good opportunity. Hopefully, she too might care one day to do the same. Not to mention, she'd get to hear all about her Grandma — or Grammy — instead of just knowing her as, "Your mom."
My mother was a wonderful woman who was devoted to helping people. She was passionate about speaking up and being an advocate of others, which is what she would have expected of me and why I'm dedicated to helping the American Heart Association.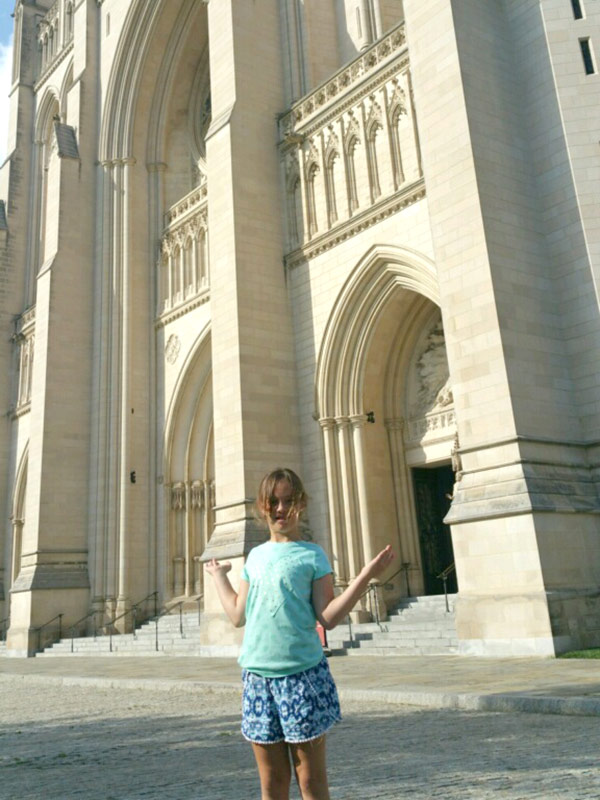 Courtesy Elisabeth Rohm
While in D.C., sharing my story at the American Heart Association and the Ministry of Science and Technology of the People's Republic of China's celebratory memorandum of understanding signing event, was truly an honor. The agreement will help advance CPR training and cardiovascular science sharing in order to help save more lives. You can learn more about the agreement here.
(To learn more about what the American Heart Association is doing domestically with their Hands Only CPR campaign please visit www.heart.org/HandsOnlyCPR.)
The momentous moment we had with the American Heart Association could have only been matched with the magic that was being in Washington, D.C. We had spent the winter in Boston where we filmed JOY. During our time there we got to walk the steps of the freedom trail, and Easton seemed to really respond to learning about our country's history.
Being in D.C. brought this to a whole new level. I even got to brush up on my history, as it had been some time since I'd turned my mind to such facts about this free nation in which we are so blessed to live. The White House, The Capitol, and all of the monuments, you really do feel like you are in the presence of some of the most historical and influential moments of our time.
Not to mention, the small moments of sharing the unique and sentimental feeling of an East Coast summer with my sun-kissed California beach girl, who had never caught a firefly in the palms of her hands, gotten drenched in an unexpected thunderstorm, or felt the thick as butter humid air envelope her body in a way that I had always known growing up.
Overall, it was a wonderful, enlightening, educational, and extremely meaningful trip to our nation's capital. Being able to share moments like this with my little girl make it all worth it.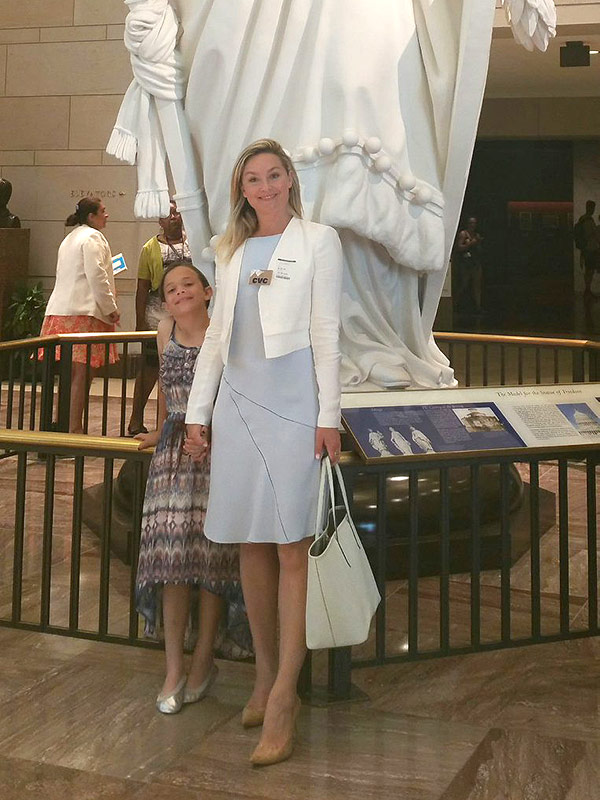 Courtesy Elisabeth Rohm
It still saddens me that Easton will never truly have the kind of relationship every kid deserves to have with their Grammy, but moments like the ones we had in D.C., remind me that she is still very much alive and present through me. Without the memory of her strength and humanitarianism, I am not sure I would be able to continue to harness my grief and sadness in such a productive way with the American Heart Association. I find that through these moments, I am not only able to feel closer to my mother, but Easton will also be able to see her through me.
We are truly blessed to have been able to go to such a wonderful place, working with such an amazing organization with such an important message that will always keep me close to my mother's memory.
Until next time, PEOPLE.com …
— Elisabeth Röhm