Nicolas Cage Is Loving 'Every Second' of Being a Grandfather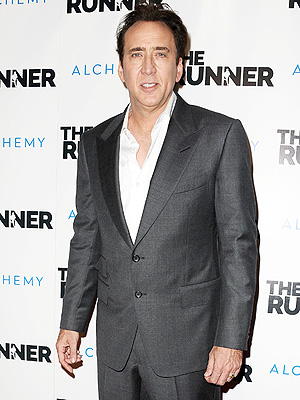 Jason LaVeris/FilmMagic
He may act tough in the movies, but turns out Nicolas Cage is a softie when it comes to his family, specifically his 13-month-old grandson, Lucien.
"I love it. Every second," Cage, 51, told PEOPLE about being a grandfather at the premiere of his latest film, The Runner, in Hollywood on Wednesday.
When asked to name his favorite thing about little Lucien he proudly replies, "His smile."
Lucien's father is Cage's son Weston, 24, from his relationship with ex-girlfriend Christina Fulton.
The elder Cage also has his own youngster at home, son Kal-El, 10, with wife Alice Kim. Cage says he was happy Kal-El was with him while he shot The Runner in New Orleans.
"It's always great to have my family with me wherever I go and wherever I can. I always want to be there to support my kids in all the wonderful things they do," Cage shares.
According to his son Weston, who was at the premiere to support his dad, Cage has done a great job being a supportive father.
"He's very down-to-earth, extremely loving, and very intellectual," Weston says of his dad. "The amount of conversations we've had are extremely beautiful. I cherish them all."
As Weston grows into fatherhood himself, he's appreciating his father even more now — especially when he needs a night out.
When asked if Nicolas ever takes on babysitting duties, Weston quips, "Sometimes. Lucien is very rowdy. So we all take turns making sure he's stimulated. My dad loves him. He's a phenomenal grandfather."
Weston, an actor and musician himself, says his son is already showing a love for music — and he wouldn't mind if he followed in the footsteps of his famous family.
"My dream for him is to surpass me. That's why I feel deep down to keep pushing him until he makes an evolution," explains Weston.
There is one caveat, however.
"I will always tell him about things like temptation and stuff … things I wish I had known more about," adds Weston, who previously struggled with addiction. "I'll tell him in a very dry, not brutal, but almost cold way so he knows the truth about it."
— Matthew Cole Weiss