Stephen Curry Shares Adorable Photo of Daughters Riley and Ryan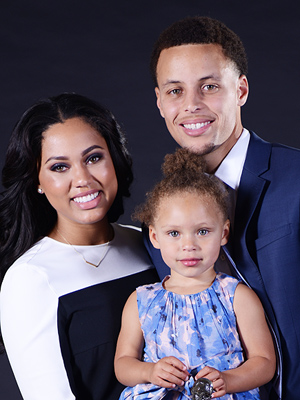 Noah Graham/Getty
Riley Curry is no stranger to the spotlight, but she's going to have to learn to share it. So far, Stephen Curry's 3-year-old daughter seemingly has no problem doing so.
The Golden State Warriors star shared a photo on Tuesday of Riley adorably loving on her 3-week-old little sister, Ryan.
In the photo Riley is seen leaning over the newborn to give her a kiss on the cheek as Ryan sleeps under her big sister.
The family welcomed baby Ryan a little earlier than planned on July 10 "through a quick three hour labor and [she] was a small 6 lbs. 1 oz.," Curry's wife Ayesha shared on her blog.

The new mom of two also shared that first-born Riley was doing a great job at taking on her big sister duties.
"We are now officially a family of 4! Riley is completely enamored with her little sister and has taken on her role as big sister beautifully," she wrote. "I am already so proud of her."
— Naja Rayne