Drew Lachey on His Daughter Dating: The Boys Have 'Been Warned'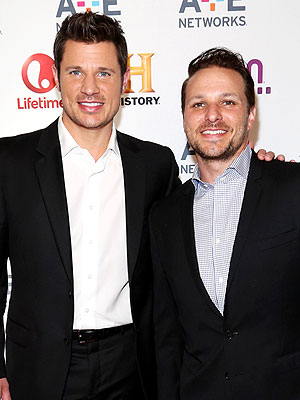 Paul Zimmerman/Wireimage
Aw, they grow up so fast!
Drew Lachey spoke to PEOPLE about daughter Isabella Claire's love life while attending a hot yoga class sponsored by Bud Light's #UpForWhatever campaign on Tuesday.
"It's crazy that she's halfway through her time in your house," brother Nick Lachey, 41, said to Drew, 38.
He responded: "Yeah, I don't want to talk about it."
Drew admits that Isabella, 9, is getting older — and dating will soon be just around the corner. Luckily, their hometown of Cincinnati, Ohio, is a small enough city where "everybody knows each other," so he has already talked to parents of the boys in her grade.
"They know," he jokes. "They've already been warned. [I'm going to] kill somebody [when she starts dating]."
But the banter between the two brothers doesn't stop there. "My wife will be like, 'No, you're being the weird guy,' " Drew says.
"Isabella will be like, 'Daddy, you're the reason no one will take me to prom. Everybody's scared of Daddy,' " quips Nick, who is dad to daughter Brooklyn Elisabeth, 7 months, and son Camden John, 2½.
Despite his tough-guy tactics, Drew admits he has his daughter's best interests at heart.
"I'll be the reason that boys love her for her," explains Drew, who calls Isabella "strong, very independent and very bull-headed."
These days, Isabella splits her time between the soccer field and the dance studio. As a father of two (son Hudson is 5), Drew has some words of wisdom for all parents.
"I think the biggest thing with any kid is teaching them confidence," he says. "It's okay to try things. You're not always going to succeed at first, but just go for it."
He adds, "Try to expose them to as many different positive things in their life as you can."
— Megan Kuharich