Salma Hayek Turns Premiere into Mom-Daughter 'Date Night' with Valentina
It was ladies' night out for Salma Hayek.
On Wednesday, the actress brought her daughter Valentina Paloma, 7½, as her date to the Los Angeles premiere of the animated film Khalil Gibran's The Prophet, which Hayek produced.
"It's actually a grandmother-mother-daughter date night," Hayek, 48, told PEOPLE before the screening, which took place at the Los Angeles County Museum of Art. "My mom is also here. This film is for everybody."
Clad in a Balenciaga dress and Gucci shoes, Hayek — who lends her voice as one of the characters in the film — not only allowed Valentina to attend the screening but also introduced her to some of her favorites on the red carpet.
"She's excited to see [the movie] again and show it to her friends, but she's also excited because we have a lot of people from the Disney Channel here," jokes Hayek.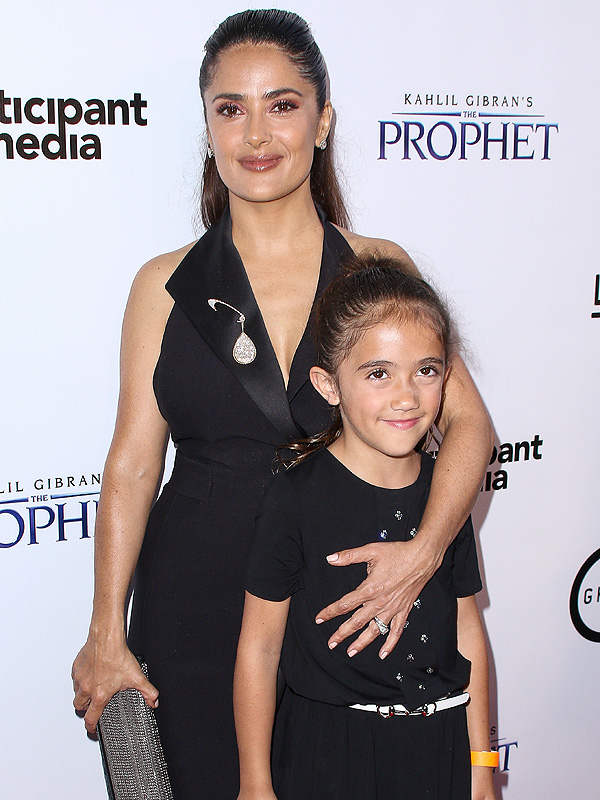 John Salangsang/Invision/AP
Valentina, who voices a character in the French version of the film, had free rein to roam the afterparty, where she filled up on hors d'oeuvres and chatted with Hayek's costar Quvenzhané Wallis.
"I never do it," Hayek says about allowing her daughter to be in the spotlight. "But it's a special occasion. She suffered through Mommy not being around for so long with this one. She's been a part of it because she had to sacrifice also for this film."
Hayek adds that the movie was very cathartic for her daughter, specifically with regards to Hayek's own deceased grandmother.
"For her, after seeing this movie, she doesn't see death in the same way. She did a drawing of my grandmother's tomb. She never met my grandmother. She was sad she was dead," she explains. "Now after seeing the movie, in the drawing, my grandmother was released from the ground and she's a spirit among us. That's pretty awesome."
The mother-daughter date comes on the heels of another adventure the two recently took: to Disneyland!
"Saturday we went to Disneyland. It was hot. I was really overworked," admits Hayek. "Once you arrive there, you can not get them out of there. I dragged them out!"
But dragging her daughter and her friends around Disneyland isn't the key to Hayek looking so amazing these days. She's actually got a few tricks up her sleeve.
"I have many beauty secrets," shares Hayek. "But tonight, I am lucky because these two Japanese girls are here from Tokyo and they do a massage on the face that pulls you up. It's like a lift, and they do it all with their hands. No machines, no products, it's all with their hands. They do something very strange, but it works."
— Matthew Cole Weiss