Jeremy Renner Gives Daughter Ava a Tour of His Movie Set – and a Piggyback Ride
Take your daughter to work day!
Jeremy Renner gave his daughter Ava Berlin, 2, a backstage look at his new movie Story of Your Life on Thursday and captured a sweet photo to commemorate the special tour.
The actor, 44, shared the pic on Twitter, writing, "Behind the scenes set tour! #storyofyourlife #proudpapa."
In the snap, The Mission: Impossible – Rogue Nation star carries the tiny tot on his back as they look at some computer monitors on the Montreal set. Ava is wearing adorable pigtails and a tiered pink top for the special visit.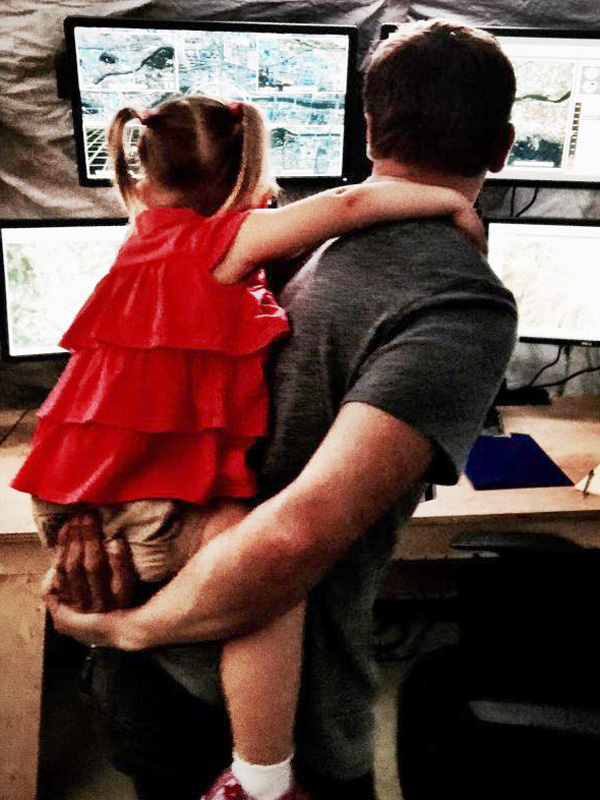 Courtesy Jeremy Renner

The 2016 movie, which also stars Amy Adams, takes place after alien crafts have landed around the globe. Adams plays a linguist recruited by the military to communicate with the extraterrestrials, while Renner is the physics professor chosen by the government to assist her.
"It's the best thing I have ever done – doing it later on in life," Renner previously said of becoming a dad. "By then I achieved a lot of things that I wanted to achieve; I'm so blessed for that. Now I can really spend time with the family."
Elisabeth Röhm: 'Jeremy Renner Is the Hottest Guy I've Ever Worked With'
Ava's mother is Renner's ex-wife, Canadian model Sonni Pacheco. Despite their heated divorce and Pacheco's attempts to gain sole custody of the child, Renner shares joint legal and physical custody of Ava. The couple were married for only 10 months before splitting.
Ever the doting dad, Renner has said that Ava is at the "best age."
"I can't wait for her to get older, but I really enjoy her now," he said.
– Lindsay Kimble