Maci Bookout Welcomes Daughter Jayde Carter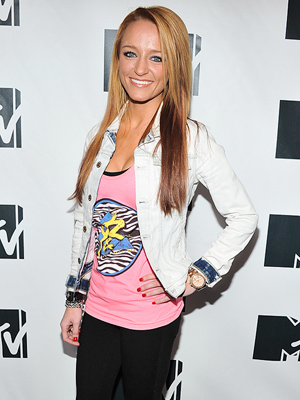 Theo Wargo/Getty
Teen Mom OG's Maci Bookout is now a mother of two.
"Jayde made her grand entrance at 1:59 p.m. today. She weighed 7 lbs., 15 oz. at birth," the reality star Tweeted on Friday, May 29, tagging boyfriend Taylor McKinney. "She is beautiful and as healthy as can be!"
As for son Bentley, how will he handle the role of big brother?
"He's so excited for the baby," Bookout, 23, told PEOPLE in March of her 6-year-old little boy. "And I'm excited for him to have a sibling. I think it will be good for him to finally have to share the spotlight."

Bookout, now a Chattanooga State college student and full-time social media marketing specialist, says that although daughter Jayde arrived first, marriage isn't out of the question.
"We definitely want to get married and we've talked about it a lot," she said. "But we aren't trying to cram it all in at one time. After the baby comes and we get settled in with parenting two children, then that will definitely be our next step."
— Adam Carlson