DeAnna Pappas Stagliano's Blog: Bachelor and Baby Birthday Parties
Please welcome back DeAnna Pappas Stagliano!
The real estate agent and Bachelor alum, 33, was one of two finalists on Brad Womack's first season before headlining The Bachelorette, where she chose Jesse Csincsak.
Although the engagement didn't work out, she met Stephen Stagliano through his twin brother Michael, who was a contestant on Jillian Harris' season.
After getting engaged in August 2010, Pappas and Stagliano tied the knot in October 2011 in Georgia.
In August 2013, the couple announced that they were expecting their first child. Born Feb. 6, 2014, daughter Addison Marie just celebrated her first birthday.
Pappas Stagliano can be found @DeAnnaPappas on Twitter and @DeAnnaStag on Instagram.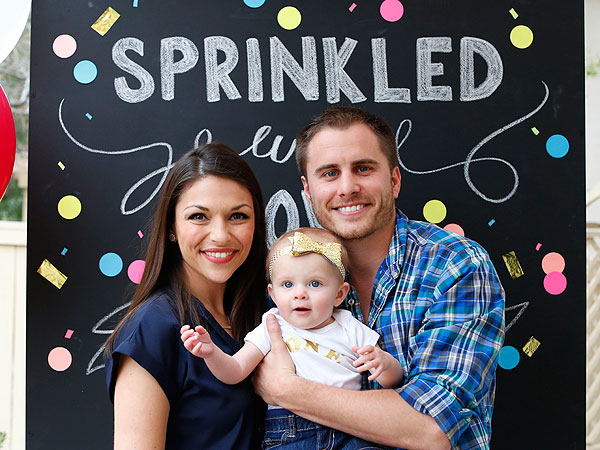 Happy birthday Addison! – Dusty Lu Photography
Hey guys — I am so glad to be back blogging for PEOPLE.com!
A lot has happened in the last few months: Addison started crawling, then there were the holidays and now The Bachelor is back at it for another fabulous season of make-out sessions and roses.
Is Chris Soules the make-out king or what?!
I'm just teasing — I like Chris a lot. I think he was an excellent choice for The Bachelor. This is an overwhelming yet fabulous experience. It can be hard at times, but also so beautiful. As a Bachelor or Bachelorette, we are so grateful for the experience and the chance to meet so many awesome people.
It can also be exhausting at times while you are trying to figure out who is real and who is just there for the TV show. Sometimes we choose correctly and sometimes we don't. In my case, I am thankful for my wrong decision because in the end it led me to Stephen.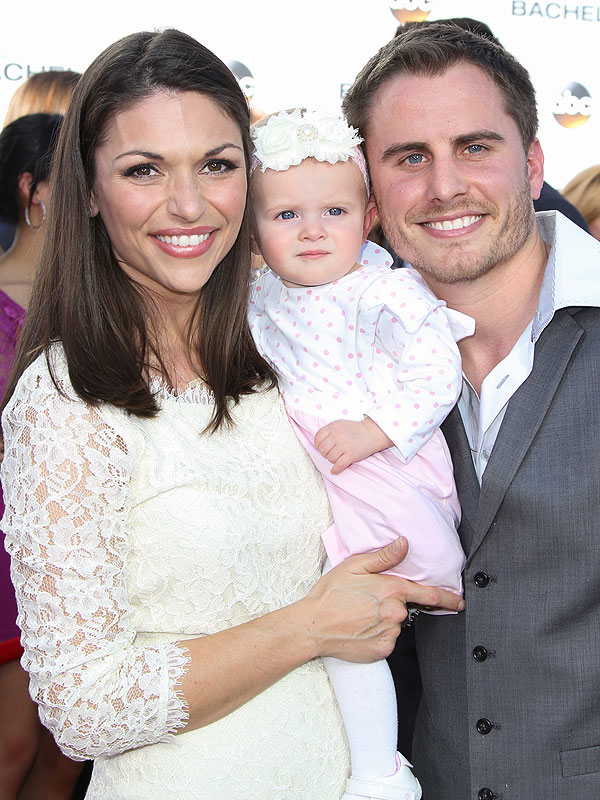 At the Bachelor premiere in January – Paul Archuleta
The show is different since I was on it. It seems like such a bigger production now. At the beginning of January, we had the opportunity to attend the premiere in L.A. as a family. It was so much fun! I could not have been more proud of my baby girl. It was so fun seeing all of our friends, producers, past cast members and Chris Harrison gush over our little Addie bear!
On the way home that evening, I leaned over to Stephen and said, "I could not have smiled any harder today! I am a very happy and proud mother." I am very thankful for those memories that we can share with Addison. My heart is so full.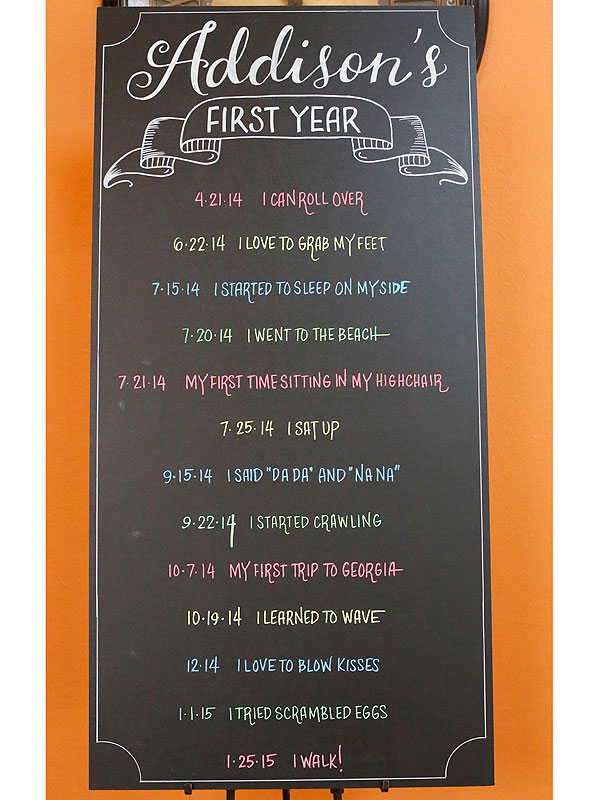 First year milestones – Dusty Lu Photography
Most recently, we celebrated Addison's first birthday. ONE! Can you believe she has turned one? People kept telling me that time would go by so fast but I don't think you have any concept of that until you have a child of your own. It's like I blinked and one year flew by. Addison is walking now and is still the happiest little girl in The Golden State.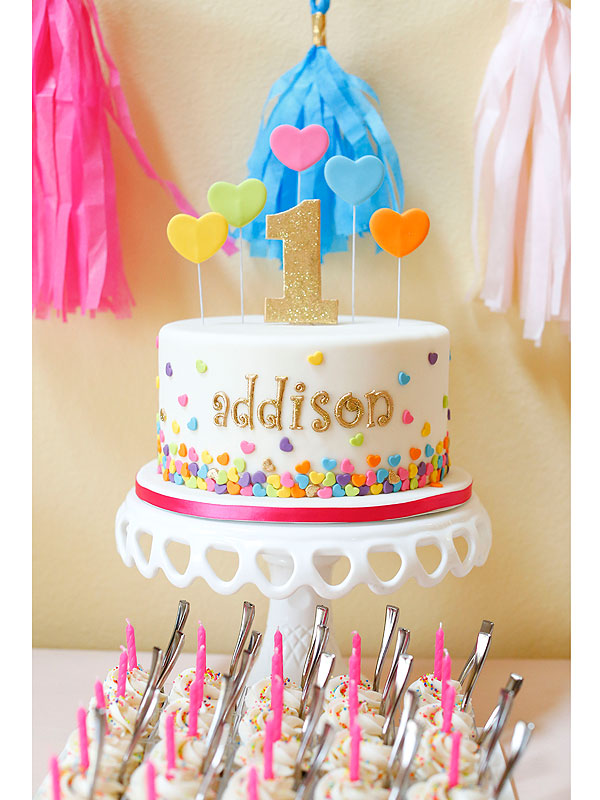 The gorgeous cake – Dusty Lu Photography
We decided to throw Addison an awesome first birthday party! I know what you may be thinking: She'll never remember it. I don't even care. We wanted a party to celebrate our baby girl and the blessing that she is.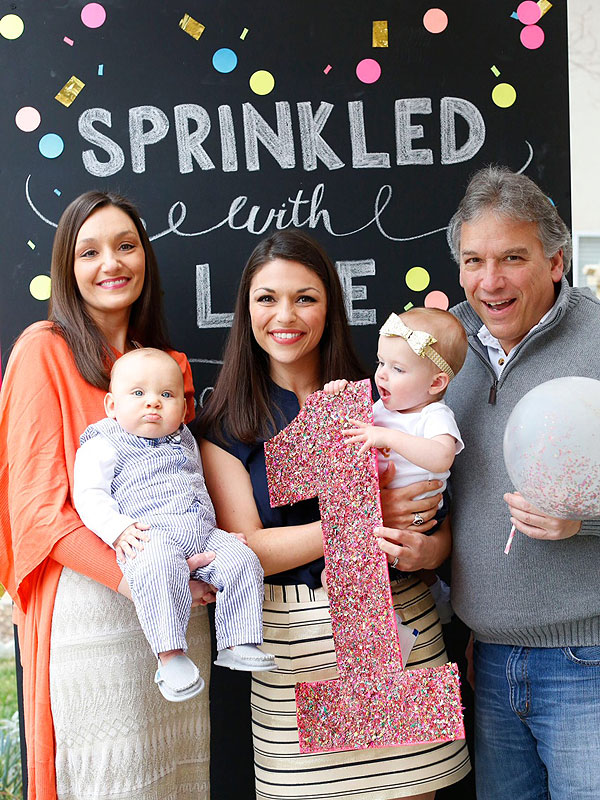 My sister Christina, her son Laydon, me, Addison and my dad, Papou – Dusty Lu Photography
My sister Christina and my nephew Laydon flew in for the event as well as my father, Addison's Papou. My childhood best friends from Minneapolis and St. Paul came too. It was so fun to have everyone visit and see my oldest friends and loved ones doting over our baby girl.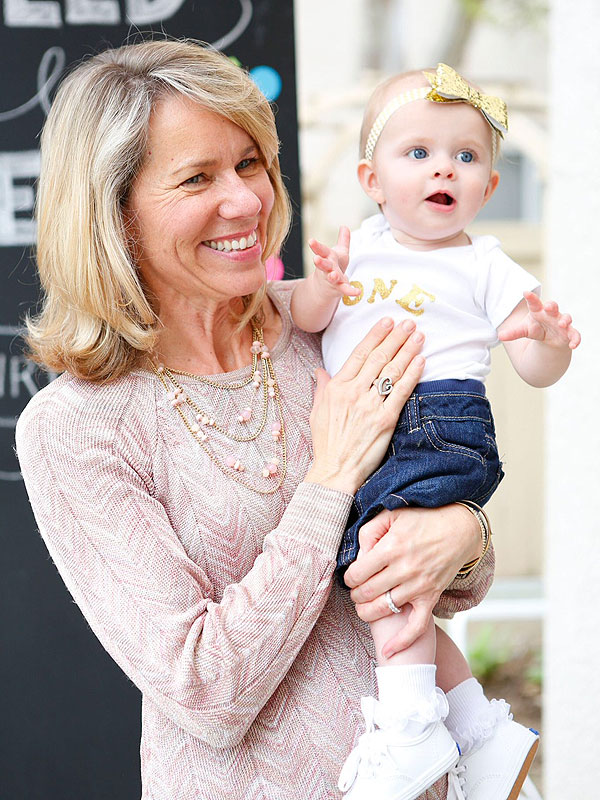 Addison with her Grammie, Stephen's mom – Dusty Lu Photography
Our friends, the Good Carma Studio girls, helped us put this together. Without their help, we would truly have been lost. These ladies are magicians. They threw together everything from the swag bags filled with gifts from Munchkin, Super Pop Snacks, Playskool, Net Nanny, Mabel's Labels, Zoocchini, KB Shimmer, Karma Champagne, Lulujo, Piyo Piyo, USANA, Gabriel Cosmetics, Lucy and Penny, and L.L. Bean to finding our amazing event designer, Laura Stewart Design, who created all the décor as well as our rice sensory station and balloon station.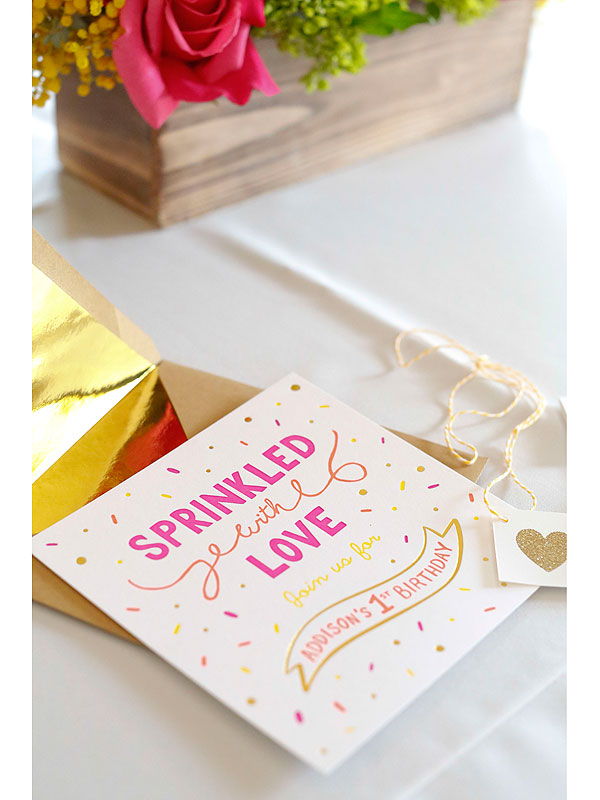 The party invitation– Dusty Lu Photography
The adorable invitations were designed and custom made by our pals at Loudhouse Creative. Our dear friends at Fantasy Frostings gave Addison the best birthday present, a smash cake! It was a present for all of us because she tore into that cake like a madwoman. She didn't sleep for the rest of the day, but it was well worth it.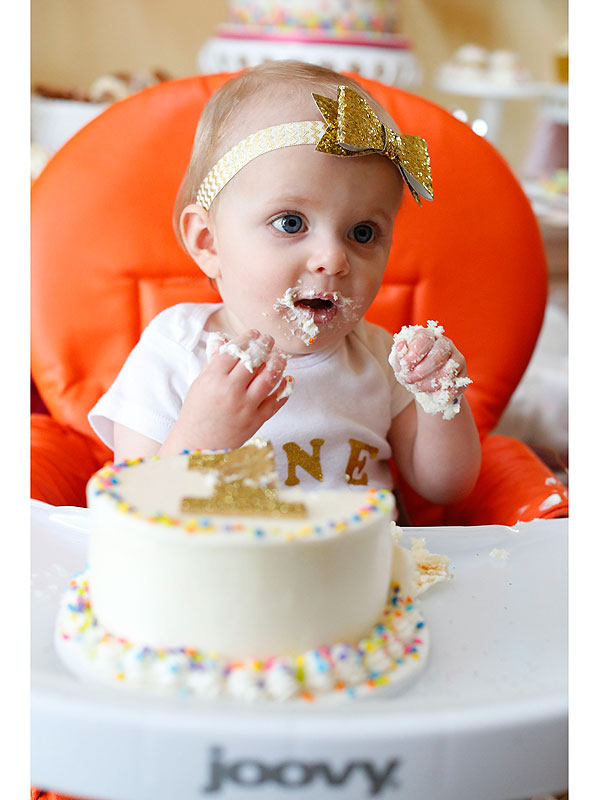 Addison digs into her smash cake! – Dusty Lu Photography
As for the food, StoneFire Grill helped in serving some good ole' comfort food for our baby girl. Lots of macaroni and cheese and chicken fingers with their delicious barbecue sauce for dipping. The folks at La Croix were kind enough to send lots of refreshments for our guests to enjoy.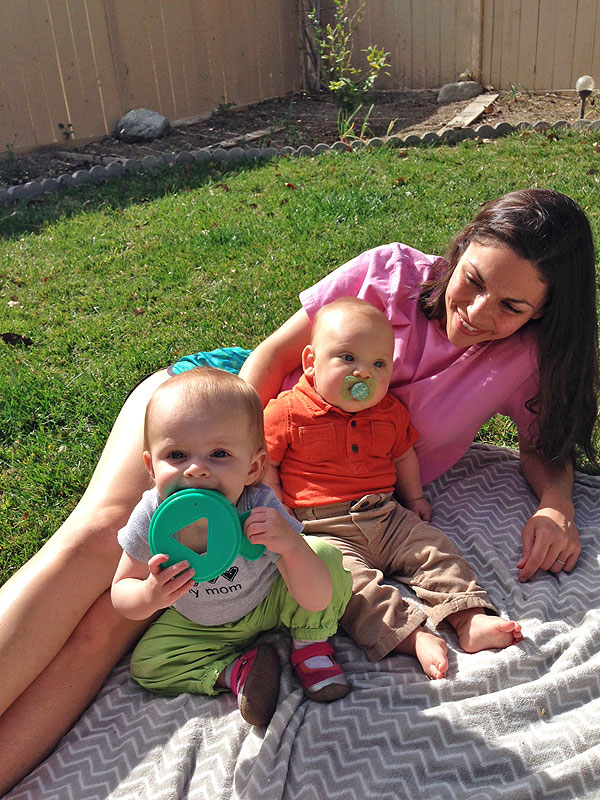 So great to have family in town – Courtesy Stagliano Family
I wanted Addison to be as comfortable as possible for her birthday so I dressed her in a timeless denim skirt and made a onesie that read, "one" and had her name printed on the back. I topped off her adorable outfit with some ruffle socks and white Stride Rite Keds, then added a little gold bow for some extra cuteness too. She was adorable.
The pictures (check out more here!) are some of my favorites and I really hope Addison enjoys looking at them years from now.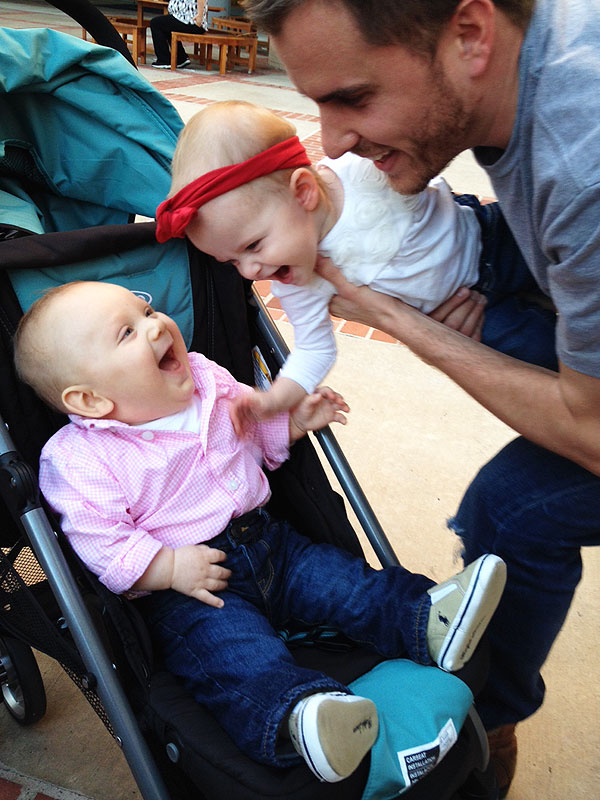 Addison loves to make her cousin laugh – Courtesy Stagliano Family
What did you do for your child's first birthday? What is the best birthday party you have ever been to?
— DeAnna Pappas Stagliano
More from DeAnna's PEOPLE.com blog series: