James Van Der Beek Taught His Daughter About Trees – During a Potty Break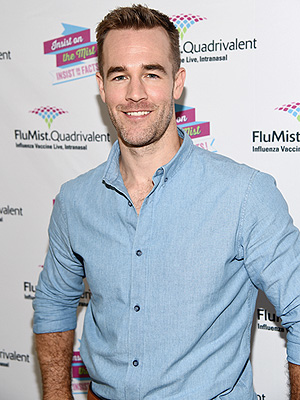 Michael Buckner/Getty
In the weeks leading up to the arrival of his third child, James Van Der Beek could only imagine his future as a father.
But after he and his wife Kimberly welcomed daughter Annabel Leah, the actor realized he had no reason to worry.
"Luckily, Annabel decided to take it easy on us," Van Der Beek, 37, tells PEOPLE. "I think she's probably our easiest baby. I think she knew that we couldn't handle any more than that."
The newest addition seems to be taking after big sister Olivia, who recently indulged her dad during a bathroom break in the redwood forest.
As the 4-year-old used the family's portable potty next to the car, Van Der Beek thought it would be the perfect time to school her on the wonders of nature.
"I said, 'Olivia, look! Look how big that tree is!' She looked at it and she [was] completely unimpressed," he recalls with a laugh. "In my mind, I'm thinking how old the tree has to be and what was there when the tree was there and how much the world and society and technology has come along since that tree was a seed."
Van Der Beek continues, "What I loved was that she could tell that I was excited about it, so she completely changed the message and pretended to care. She said, 'That's nice, Daddy,' and then waited a beat and said, 'Can we go back in the car now?' I love the fact that she was sweet enough to fake being interested for my benefit. It really cracked me up."
But while life with three children, including son Joshua, 3 next month, can still be hectic, the couple choose to focus their efforts on celebrating the memorable — and "really beautiful" — moments as a family.
"We are taking it day by day. You learn how to embrace the chaos and appreciate every moment and give up the expectation that it's not going to be chaotic," he says. "They're just chock full of beautiful, new experiences at every stage of the game. It's always surprising and it's always, basically, the best thing in life."
One thing the couple can't take credit for? The strong bond that has already formed between their two girls. "Olivia just loves her little sister. Before she was even born, she was excited. She's incredibly sweet with her," Van Der Beek shares.
"I wish I could claim credit for that — some sort of childrearing technique — but I think the truth is that some kids are just psyched to have siblings."
And while Joshua is the only boy in the bunch, Van Der Beek makes it a point to carve out special time with his son. "The more one-on-one time he gets, the better off he seems to be," he explains. "He's definitely a boy — he loves to run and throw things and break things. It's important to get each kid their one-on-one time."
Van Der Beek is juggling a full plate these days. In addition to keeping up with his kids, he is logging long hours on the set of his new show, CSI: Cyber — and learning a whole new meaning of overtime.
"The trickiest thing is having the energy at the end of the 15-hour work day to come back and try to coax three little humans off to bed," he says. "They don't care that you were up at five in the morning and chasing some guy on a rooftop. Daddy's home! They want to play, and they don't want to brush their teeth."
And with so much on his schedule, Van Der Beek is more determined than ever to keep his family healthy during the winter months, his motivation for teaming up with FluMist Quadrivalent.
"As I started educating myself for my children, I felt like there were a ton of misconceptions about the flu, some of which I bought into. I didn't realize how debilitating the flu is," he explains.
But it was FluMist's technique — administering the flu vaccine as a nasal spray — that really sealed the deal for Van Der Beek. "I was excited because I didn't know that there was a needle-free flu vaccine out there. Kids don't like needles," he admits. "FluMist Quadrivalent [gets] four strains of the flu; it's three with the traditional flu shot. I thought, 'Wow, this is something where putting a little bit of information out there can really help people.' "
He adds, "I was one of the people who thought, 'If I get a flu vaccine, maybe I can get the flu from the vaccine' — which is actually impossible."
— Anya Leon with reporting by Lanford Beard