Carrie Underwood: I Need to 'Lock Down' a Baby Name Soon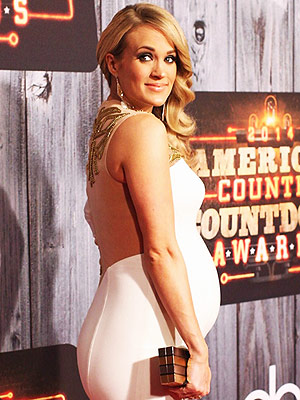 Sara Kauss/Getty
She's worn plenty of glamorous gowns the past few months, but Carrie Underwood's secret to feeling pretty during her pregnancy isn't about getting all dressed up.
"Just knowing that the whole process itself is really beautiful … Even when I feel pretty large, it really is such a miracle and such a beautiful thing," the country singer, who's expecting her first child this spring, tells PEOPLE.
But despite embracing the special time in her life, Underwood, 31, is also awaiting the go-ahead to get in shape and bounce back to her pre-baby self.
"I'm looking forward to reclaiming my body," she admits. "I've been saying it's been on loan for the past many months … I'm excited to take it back."
And with a little more than two months to go until she welcomes her baby boy, the mom-to-be and her husband Mike Fisher still have one big item left on their to-do list.
"We don't have a baby name. We need to lock that down here pretty soon," Underwood, a brand ambassador and the face of Almay's new Simply American campaign, says.
"We joke a lot about funny things that go with Fisher, but there's not some family name that I have had to be like, 'No! That's terrible!'"
For more from Underwood, pick up the 2/16 issue of PEOPLE, on newsstands Friday.
— Anya Leon with reporting by Jackie Fields