Rosie Pope's 5 Mommy-to-Be Must-Haves for Winter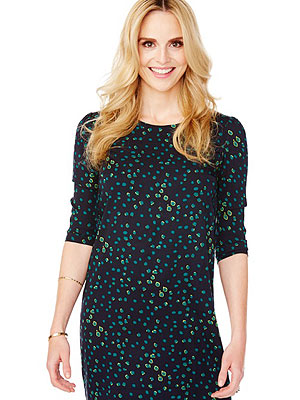 Courtesy Rosie Pope
Rosie Pope knows all about the perfect pregnancy.
Not only is she a mom-of four — Pope and husband Daron are parents to Bridget Monroe,  10 months, Vivienne, 2½, Wells, 3½, and J.R., 5½ — but the British born entrepreneur has also designed her own maternity line, created a kiddie clothing collection and is the mastermind behind MomPrep, her prenatal and postpartum education studios.
So with so much experience, it only made sense to turn to Pope, 35, to find out what exactly an expectant mama needs to get through a (stylish!) pregnancy during the winter months.
From a luxe lotion to a cozy topper, check out Pope's top five mommy-to-be must-haves below!
1. Good moisturizer
With winter in full swing, you want to make sure you are properly taking care of your skin — and that means moisturizing! My favorite is Aden and Anais Soothing Ointment. You can use this cream for anything, from chapped lips to diaper rash — it is definitely a must-have in your bag.
2. Monogrammed necklace
I love monograms! (Hello, I am British.) I would monogram everything if my husband would let me. Alas, I can't and I have to settle for monograms in little ways — that's why I love the monogrammed necklace from Katherine Kane. The monogram is pretty subtle so it works for someone who isn't as crazy about it. And it's perfect for your (or even your little one's!) initials.
3. The perfect pair of black pants
The thing I see most in my stores are women in desperate need for pants! Let's face it, even if you aren't planning on getting a whole new wardrobe for this wonderful phase in life, maternity pants are a must. They are so much more comfortable than trying to fit into your non-maternity ones. Why try?
I am one for versatility pieces too, so finding the perfect pair of black pants that can go from day to night is music to my ears. I love this pair from my own line, Pret Maternity Pants. I made it in a heavy duty Euro-Stretch Twill so it will grow with you as well as slim you down.
4. Cozy (and stylish) sweater
One of my favorite things this season are the sweaters! Luckily, with sweaters, you can get away with wearing a non-maternity (and slimming) style for a while. I know what you're thinking: slimming and sweater is not something you see together — but they exist! The key is to find a style that is your size: Just because your bump is getting bigger, doesn't mean you need to go up in sizes.
Ivory Row's Dual-Tone Crew Sweater is a must-have this season because of the dual tones. Having one color in a different tone is like an optical illusion — it will instantly slim you down.
5. Chic carryall
Nowadays, having a diaper bag doesn't mean you are giving up style. As cute as the bags are with elephants on them, I want to be able to carry around a bag all day without my babes in tow. I want people to think my "purse" has my cellphone and lipstick in it, rather than tons of diapers and toys (even though, in reality, it does!).
Not only is Rebecca Minkoff's diaper bag a beautiful bag, but the name says it all: The Knocked Up Baby Bag. It has all the functions you would need in a diaper bag, all the while, keeping you looking stylish.