Why Is Scott Foley Hiding Under the Covers Every Morning?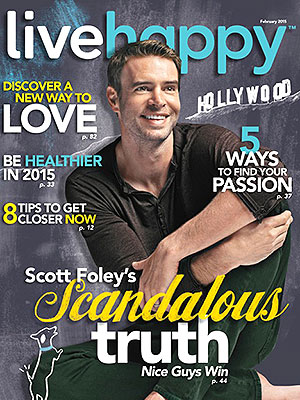 Courtesy Live Happy
Scott Foley has found his two greatest loves in life — and they both require early wakeup calls.
"At this stage of my life, what makes me happy is my passion," the Scandal star says in the February issue of Live Happy. "That sounds so generic and broad, but I love to act, I love to tell stories and that is my passion."
Foley's other focus: his family of five. The actor and his wife Marika Dominczyk are parents to daughter Malina, 5, and sons Keller, 2½, and Konrad, 10 weeks.
"I love my family — my family makes me happier than anything else. I'm passionate about spending time with them, watching them grow and making them laugh," he explains. "Those are the two passions in my life: family and work."
For Foley, 42, the pieces all began to fall into place a decade ago.
"In the last 10 years, I have been able to really establish a home base here in Los Angeles," he explains. "Once I came to realize that I liked where I was, I wasn't really interested in going anywhere else."
He adds, "I was able to put down some roots with a family — and now three kids. There's something really important to me about that root system, about that family. That's where it all comes from."
While each day begins bright and early, Foley embraces all the chaos — despite admittedly attempting to delay the morning madness. "Malina and Keller share a room and we have a monitor in there," he explains. "Usually, about 6 a.m., I am awakened by my son screaming — telling his sister to wake up. Then they run into our room."
Although the dad-of-three tries to "hide under the covers for at least five minutes," he jokes his plans are typically met with resistance.
"It usually doesn't work," he shares. "Keller's a regular young man, so I have to change poop. That's usually the first thing I do when I get out of bed. And then, if it's a weekday, I make a bowl of cereal and eggs. If it's a weekend, it's either pancakes or waffles."
And, at the end of the day, Foley says he couldn't be happier with where life has taken him.
"I come from a fairly large family with three boys; my wife has three girls in hers," he says. "I like the American dream. I like the idea of an RV and a road trip or a European vacation with my family."
Scandal returns to ABC on Thursday, Jan. 29.
— Anya Leon