Casey Wilson 'Really, Really Excited' to Be Expecting First Child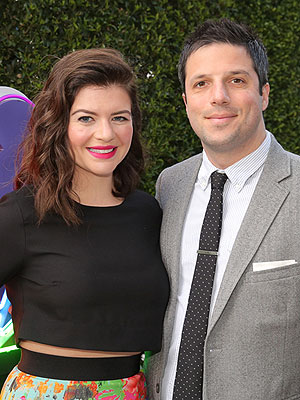 Chris Haston/NBC/NBCU Photo Bank
Marry Me wasn't the end to Casey Wilson's happily ever after.
The actress is expecting her first child with her husband, film and TV writer David Caspe, she confirms to PEOPLE.
Finally out of a tough first trimester that left her "feeling so tired and sick," Wilson is starting to prep for her bundle of joy — but in baby steps.
"I'm trying to collect as many pearls of advice as I can," the mom-to-be, 34, tells PEOPLE. "I've been feeling so sick, [but a girlfriend told me] showing up is all you need to do. I really appreciated that because I'm an overachiever and I was getting down on myself for feeling so tired and sick."
Luckily for the comedian, her cast and crew — including on-screen husband Ken Marino — have jumped to make things easier for her on set.
"Ken is very into safety and couldn't be sweeter," she says. "He's like, 'Careful there! There's a sharp edge in the other room!'"
One other perk she's discovered on set is the props department, which often has a snack or two for her to munch on.
"Around 4:30 [p.m.] … is when my energy's flagging," she explains of her day, which usually starts around 5 a.m. "I will sometimes be known to see what's going on in the props department by way of food. They sometimes have gum balls … [or] popcorn, and I use it basically as my own personal craft service."
She adds, "Sometimes it's very strange food because it's dictated by the scripts."
Slowly easing back into working out — "Every day I'm like, 'Is today the day I jump back into it?'" quips Wilson — the actress also plans to take cooking lessons before the baby arrives next year.
"I want to provide something," she jokes about being able to one day cook a full meal for her family.
In all seriousness, she and Caspe, whom she married in May, are just "having a great time," says Wilson, who recently appeared in Gone Girl. "We're really really excited."
For more from Wilson – and an exclusive look at a day in her life – pick up the latest issue of PEOPLE, on newsstands Tuesday.
— Melody Chiu and Anya Leon