Mila Kunis: 'Breastfeeding Is a Great Workout'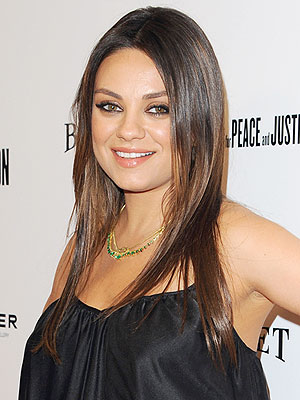 Axelle/Bauer-Griffin/FilmMagic
Mila Kunis is sharing the secret to her incredible bounce back.
The actress — who welcomed daughter Wyatt Isabelle in October — dropped by the Late, Late Show on Wednesday for her first interview since giving birth.
And host Craig Ferguson couldn't help but compliment the new mama on her post-baby body.
"Breastfeeding is a great workout," said Kunis, 31, showing off her svelte shape in a sleeveless black dress.
To keep her energy up, Kunis admitted that she just "eats a lot — that's what keeps me going through the day."
Despite being only two months into motherhood, Kunis is already noticing the difference between her daughter and her newborn nephew, sister-in-law Tausha Kutcher's son.
"It is completely different. Everything," she said.
But, once Wyatt hits her teens, Kunis joked she'll be handing off the responsibilities to fiancé Ashton Kutcher. "Not my problem. That's Daddy's problem," she shared.
Since welcoming her first child, Kunis — who's currently out promoting her upcoming movie, Jupiter Ascending — has been spending the majority of her time at home, making memories with her new family of three,  a "luxury" she's grateful to experience.
"Nowadays, people can't do that. Everyone [in the household] has to have a job," she explained, adding Wyatt will always be with her once she returns to work.
— Amanda Michelle Steiner