Milla Jovovich: I'm Expecting a Baby Girl!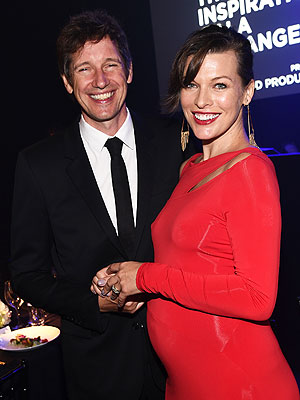 Michael Buckner/Getty
Milla Jovovich's daughter got her wish: She's getting a baby sister!
"We're actually having a girl so she's so excited," the actress, 38, told PEOPLE Wednesday at amFAR's Fifth Annual Inspiration Gala in Los Angeles.
The news that Jovovich's second child with Paul W.S. Anderson will be another daughter came as a big relief to the mom-to-be, who admits she was unsure the couple's firstborn, Ever Gabo, would take well to having a brother.
"I was actually worried if we had a boy, what would happen to him," she says with a laugh. "I was like, 'I wonder how long he will survive in our house with that little girl pushing him and sticking her foot out and tripping him!'"

Now that the secret is out, Jovovich and Anderson have been busy coming up with a name. Luckily, Ever, who turns 7 on Monday, is already taking her role as big sister seriously and offering up a few of her favorite — and "amazing" — name choices.
"One of them was Toilet Bowl. Which we thought was there on our list. We're like, 'That's a really good one.' Bicycle Lane was another one," Jovovich says.
In the end, Ever ended up choosing her sister's name — and Jovovich jokes it's a "non-sanitary related" moniker.
"Actually, the name that we chose, she picked," she says. "I'm still open to suggestions, but we've been calling her one particular thing recently."
One thing Ever isn't too keen on doing for her baby sister? Lavishing her with brand new gifts. "We're giving birth to Cinderella pretty much. She's like, 'We don't need to buy her anything, Mama. She can just wear all of my old clothes,'" Jovovich says.
"I'm like, 'Well, but she needs something new of her own.' 'No. No. No. No. She doesn't need anything. She can just wear my old stuff.'"
Although she's expecting a second daughter, Jovovich admits there's not much else similar between her two pregnancies.
"It's really different. I feel like the last pregnancy I got really big and my skin was a disaster, but I felt really great and I was super jolly," she recalls.
"This time around, my skin looks great, but I've been sick, I have headaches. I keep saying it's a hangover without drinking the night before."
Hopeful that she is moving past the morning sickness — "The last week it's been good," she says — the proud mama-to-be is concentrating her efforts on Halloween.
"I'm going to be pregnant for Halloween. I figure that's enough of a costume. I have layers on already. And it's more about [Ever] at this point," she shares, adding that she may pick up a pair of "cat ears or something" to satisfy her creative side.
"This year I'm going to take it easy. Last year, we did full on — usually we are just dead people … This year, it's all about life!"
— Anya Leon with reporting by Reagan Alexander