Doutzen Kroes: 'It's Really Hard' Juggling Two Kids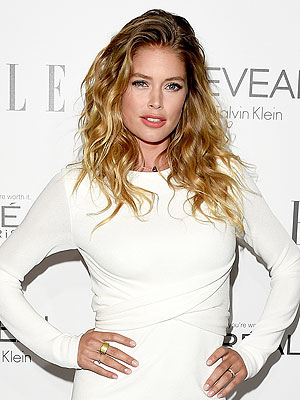 Jason Merritt/Getty
Now mom to 3-month-old daughter Myllena Mae and 3½-year-old son Phyllon Joy, model Doutzen Kroes didn't know how she was going to handle double duty at first.
"It's crazy. In the beginning when [Myllena] was just born I was like, 'How am I going to do this?'" Kroes told reporters Oct. 20 at the 2014 Elle Women in Hollywood Awards in Beverly Hills.
But now the mom-of-two has finally found her rhythm and is learning to perfect the balance of her two babies.
"It was really shocking, but now after three months I'm getting into it," she admits. "I'm okay doing it by myself too when my husband [Dutch deejay and producer Sunnery James] is traveling — so I've been practicing and it's amazing. It's the best feeling in the world."
How does Kroes juggle the demands of a newborn and toddler by herself?
"You just have to stay calm. It's really hard," she says, adding an occasional night out helps.
"I'm really grateful for my job that I can go to events like this and get [my] hair and make-up [done]," the model mama, who admits she wears sweatpants and keeps her face make-up free at home, says. "It's something that a lot of moms don't have and I'm very blessed."
But the biggest (and sweetest) surprise for Kroes? "That you can love two babies at the same time — and [it's] the same equal love — and that I can also be with two kids," she explains. "It's almost like if you have to do it, you can do it."
And after two kids, this proud mom bounced right back to her pre-pregnancy body, showing off her svelte figure in a white Calvin Klein Collection dress at the event.
Kroes credits her incredible turnaround to a healthy lifestyle. "I'm very active and [play] lots of sports and [it's] also genetics I think — a little bit of everything," says the Victoria's Secret stunner. "I'm very mindful of what I do and how much I work out and what I eat."
— Mariah Haas