Ashton Kutcher: How We Chose the Name Wyatt Isabelle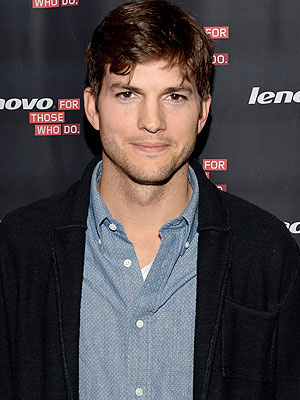 Michael Kovac/Getty
Proud new dad alert!
Ashton Kutcher dropped by Conan Tuesday night — and he couldn't contain his excitement over becoming a first-time father to daughter Wyatt Isabelle.
"It's unbelievable. It's the greatest thing on Earth," the beaming Two and a Half Men star, 36, said.
"We're really privileged that we have time and can afford to take time. So we don't have a nanny or a night nurse or any of the stuff. It's just the two of us."
Kutcher told host Conan O'Brien that fatherhood has already opened up a whole new perspective for him — including a newfound appreciation for his own parents. "As soon as this child was born, I immediately wanted to call my parents and just apologize because I never knew how much they loved me," he shared.
The former That '70s Show star says he already has a knack for parenting. "Staying home the first couple of weeks, I've learned the little things that will calm down the baby. So I feel like I'm the baby whisperer now," Kutcher quipped.
"I like to give the baby to my friends and let [her] cry for a second. Then be like, 'Let me just take care of that.' "
Not that little Wyatt cries that often. "I feel like we got a good one. We put her down and she sleeps. We wake up a couple times a night, and that's it," Kutcher — who wants to be called Papa — said. "I feel really blessed."
The Internet's been buzzing about Kutcher and Mila Kunis's unique name choice. According to the actor, the couple had already chosen another name, but then "when we were pregnant, the name didn't fit the energy we were feeling. One night, Mila was like, 'This is not the name.' "
He continued, "I had to get the creative juices going, so we were going to a Lakers game, and I just started listing off anything and everything I saw: 'sign, truck, wall, door … ' She [was] like, 'Shut up!' Then I was like, 'I've got a really dumb idea. What about Wyatt?' She goes, 'That's it.' "
As for her middle name? There was a little more tradition to it. "We gave her the name Isabelle after Mila's grandfather, who was Yitzhak. And so it has a little heritage," Kutcher explained.
The new parents are so proud of their choice that they've already reserved possible domain names for Wyatt Isabelle. "I don't want a porn site with my daughter's name!" joked Kutcher.
Kidding aside, the proud new parents have some seriously cute ideas for making memories.
"We got her an email address," Kutcher explained. "We write her emails … One day she'll be able to look at it and see the kinds of things people had to say."
Up next for the Kunis-Kutcher clan? Halloween, of course! "We're going as the three little pigs," Kutcher says. "Not my idea, but I'm sucking it up."
— Jeff Nelson