Mila Kunis Debuts Gorgeous Emerald Motherhood Ring
Some women wait for push presents — Mila Kunis makes her own.
The actress — and new mom to 3-week-old Wyatt Isabelle — has partnered with Italian jeweler Marina B to design an emerald green motherhood ring to symbolize and celebrate the memorable milestone.
"Carrying a child and bringing new life into the world marks the start of an incredible journey," Kunis, 31, says. "Throughout history, every culture has its own way of recognizing this extraordinary event, often with a gift for mother or child."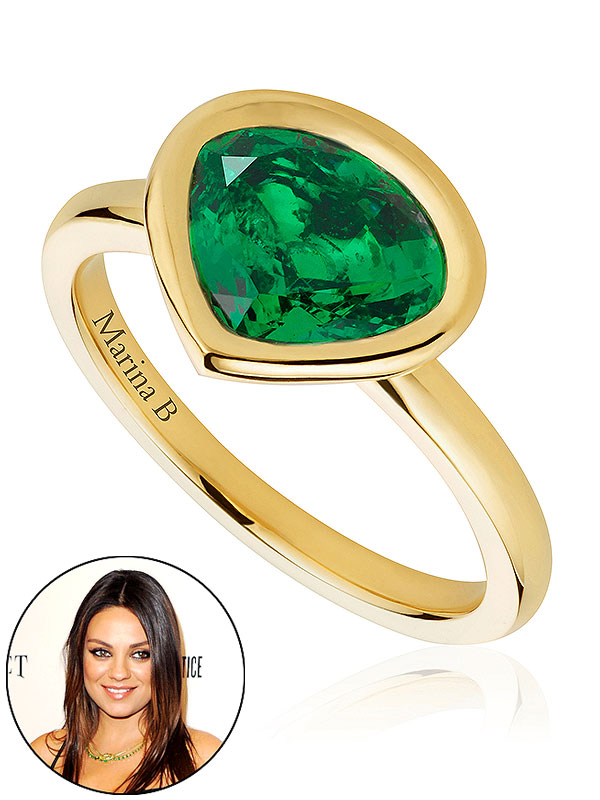 Courtesy Gemfields
In addition to the careful details that went into designing the 18-karat yellow gold piece — which features an emerald Gemfields stone from Zambia — Kunis has chosen to honor fellow mothers by donating revenue from the $4800 ring to aid in the country's maternal health care.
"Precious green emeralds are traditionally symbols of motherhood, wisdom, and long-lasting love," she explains.
"But they are also a symbol for hope in many cultures, and so the proceeds from this collection of Motherhood Rings will benefit the opening of Gemfields Nkana Health Centre, where four new wards have been built — a major undertaking that will have long-lasting benefits to the local community."
Shortly after Kunis and fiancé Ashton Kutcher welcomed their daughter on Oct. 1, the actor announced the birth on his website, writing, "May your life be filled with wonder, love, laughter, health, happiness, curiosity, and privacy."
— Anya Leon