Bump It Forward with The Bump's New Parenting Apps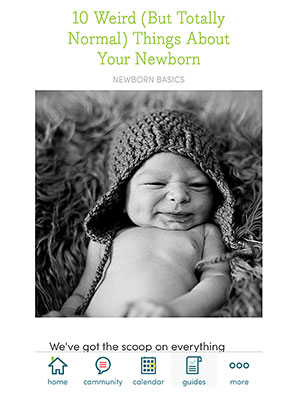 Courtesy The Bump
As any rookie mom and dad can tell you, first baths and first steps are cause for celebration — and potentially, reason to freak out. Luckily, there's an app for that.
Launched by pregnancy and parenting resource The Bump, The Bump Pregnancy and The Bump Baby apps (available for free on iTunes) offer hand-holding in the form of Q&As with its editors, a calendar of milestones, checklists, and a journal feature for a tyke's first 12 months.
Declaring October "Bump It Forward" month, The Bump will give a donation for every download of the app this month to Every Mother Counts, a non-profit founded by Christy Turlington Burns that helps to ensure safe pregnancies and births worldwide. A mother of two (daughter Grace, 11, and son, Finn, 8, with husband Edward Burns), the model and humanitarian is all about educating and empowering, especially when it comes to maternal health.

"The most valuable advice I received while pregnant with my first child was to go in with eyes wide open. Listen to advice, accept help that friends and loved ones offer, rest whenever possible and then make time for yourself in that state to absorb it all," Turlington Burns told The Bump. "There will never be a more precious time between you and your partner if you treat it as such."
To keep the giving spirit going, The Bump is also launching a Charity Registry Program featuring Every Mother Counts, where moms-to-be can register for select charities in addition to or in lieu of a traditional baby gear.