5 Tips on Keeping Calm During Terrible Tantrums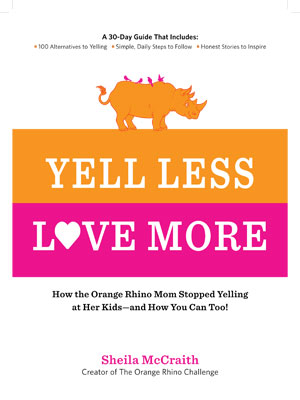 Courtesy Orange Rhino
When Sheila McCraith realized her handyman had caught her screaming at her four sons, she knew she needed to change.
"I was beyond mortified by my behavior," she tells PEOPLE. "I could no longer accept that yelling at my kids wasn't a problem."
The next morning, McCraith woke up with a plan: Go 365 days without raising her voice. But she quickly realized that keeping calm throughout the day centered around one very big obstacle — tantrums!
To keep herself accountable, the mom-of-four set up The Orange Rhino Challenge, where she shared her stories and sought support from fellow frustrated parents.
Fast forward one year later and McCraith completed her goal — and her family couldn't be happier.
"Empathizing with my kids' tantrums is easy because it turns out that most of the time their reasons are the same reasons I have my own adult tantrums," she says.
Ready to regain the peace in your house? Check out McCraith's top five tips on keeping your cool during a terrible tantrum.
1. Take a deep breath (or a thousand): When I became overly agitated as a child, my mom always said (oh wait, she still does!), "Just take a deep breath." It drove me nuts and actually made me adamantly refuse to take deep breaths.
Somewhere on my Orange Rhino journey though, I naturally started to take them and guess what, Mom's always right. Deep breaths slow me down, calm me down, and help me re-focus on what matters: helping my child through a tantrum instead of making it worse by yelling.
2. L.O.V.E. my child: I created the acronym L.O.V.E. to help me fully find empathy.
Listen to your child, like really listen, as chances are he/she will tell you the precise cause of the tantrum. (I learned that I don't give my kids enough credit when it comes to knowing what's up.)
Observe the environment: Is it too hot, close to dinnertime, too loud, too overwhelming?
Verify with your child what is causing the tantrum based on what you learned from listening and observing. Be sure to paraphrase! I learned the hard way that verbatim will fire your child up even more!
Empathize by showing your child your understanding of his/her feelings (maybe share a relatable story when you felt the same, i.e. "I know it's hard to not get ice cream every day; I felt the same way when I was a kid.")
3. Talk to myself: I literally talk my son — and myself — through tantrums. I say to myself things like:
"You know how it feels to have a tantrum; you know you want understanding and support not yelling."
"You had the same exact tantrum when you were a child."
"Yelling will only make things worse."
"A tantrum is just your son's way of saying, 'Yo Mom, I am in a bad place and it stinks.' "
4. Go to Machu Piccu: When finding empathy is really difficult (sometimes a tantrum is just that annoying and I can't get past my frustration), I go to Machu Piccu.
Just like a "mom" did in some recent commercial when she needed a break from her children, I close my eyes, picture myself alone on some exotic beach, quietly listening to the ocean. I don't come back "home" until the wave of negative emotion has passed and I feel more warmth.
Then I try to find empathy again.
5. Offer a hug: When all else fails, I offer a hug. A hug-of-love is way better than a tug-of-war. Hugs make everyone feel better.
And when my son refuses a hug because I am just too evil of a person at that moment (how dare I say, "Yes, you can watch T.V. … after you picked up your room!"), I offer a warm invitation of, "Well, the hug is here when you are ready for one." Honestly, even the warm gesture of offering a hug makes me feel less agitated.
For more tips on how to manage tough triggers without yelling, check out Sheila's parenting guide and memoir, Yell Less, Love More: How The Orange Rhino Mom Stopped Yelling at Her Kids – and How You Can Too!