Georgina Bloomberg: Why I Want to Teach My Son How to Lose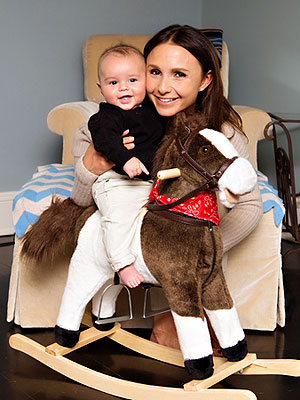 Geoffrey Tischman 
As an internationally renowned equestrian, Georgina Bloomberg is well-versed in winning. But when it comes time for her son Jasper to learn how to ride and compete, she has something else in mind entirely.
"I like the idea of teaching kids how to lose. That's a really important lesson in life," Bloomberg, who won Thursday's grand prix at the Central Park Horse Show Presented by Rolex, tells PEOPLE.
"I don't like the idea of doing leadline where everyone gets a blue ribbon," she says of the horse show class for the littlest riders. "I think it's unrealistic for kids and teaches the wrong lesson."
So when Jasper makes the move from rocking horse to a real pony, he'll ride in the judged classes where the riders are placed, says Bloomberg, 31. "My friends's kids who got a blue ribbon every time are now starting to compete in other classes where that doesn't happen and they struggle with not winning every class."
"It's really nice to teach kids that, listen, you're not going to win every time out. And that's OK."

At just 9 months old, Jasper (whose father is Bloomberg's longtime boyfriend Ramiro Quintana) "hasn't been on a horse yet without being in my stomach," jokes his mom. The professional show jumper rode in last summer's Hampton Classic horse show at five months pregnant — her last competition before taking a break from riding. "I know it was controversial," she says. "But I listened to my body, I was taking better care of my body than I ever had before and I felt like it was the right decision for me at the time."
Now that she's a mom, Bloomberg was pleasantly surprised by her new state of mind when she returned to riding.
"I'm more focused when I'm in the saddle because I have less time in it. I appreciate my time in the saddle more," she says. "I thought I'd be more distracted and more rushed but now when I go to the barn, I know I have a couple of hours just to focus on the riding. I fully focus on that and the rest of the day is devoted to my son."
And when she's on the road competing, Jasper can get an early look at the horse show circuit.
"I'm lucky in that Jasper can come to most of the horse shows," says Bloomberg. "He really enjoys being around the horses. So even thought I'm at the show all day, he can be there, sitting with me between horses."
— Rennie Dyball