Hillary Scott: I've Swapped Drinks for Diapers Before Shows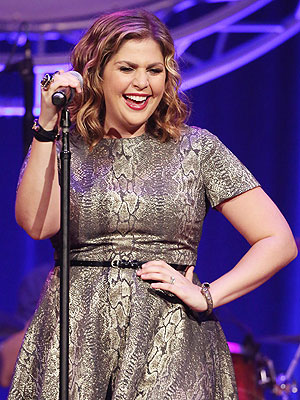 Curtis Hilbun/AFF-USA
Time changes everything — just ask Lady Antebellum's Hillary Scott.
The band recently wrapped their Take Me Downtown tour and while they've sorted out the bus situation, the first-time mom admits she's still adjusting to taking 13-month-old daughter Eisele Kaye out on the road.
"It's a lot to juggle," Scott, 28, tells PEOPLE. "When I'm on the road and touring, my whole day revolves around when I need to get ready, so by a certain time I need to be taking a shower and if I'm 10 minutes late, then it's going to make the rest of the day shift."
Adds the singer, "It can get stressful."

But there's a silver lining to the constant juggle. "I'm learning how to multitask!" she says. "I do my own hair and make up every night, so just juggling everything and wanting to prioritize having quality time with her and fitting in working out, sound check and hair and make up."
And gone are the days of sipping drinks and relaxing before hitting the stage, all of which have been swapped with special moments with her baby girl.
"Before Eisele, the pre-show ritual was a cocktail. Now I'm changing a diaper and then walking on stage. Or giving her a bath or putting her to bed, which is really precious time honestly, and then getting on stage," she shares. "It's different. Life is really different."
Of course, the next tour will bring double the diaper duty now that bandmate Dave Haywood is a dad — his son Cash Van was born Sept. 7.
"That little boy is beautiful!" says Scott. "They're doing very well. The first few weeks are so strange. Your adrenaline kicks in and you're like, 'I know I'm sleep deprived, but this little person is just the most amazing thing I've ever seen.' Then a few days go by and that adrenaline starts wearing off and that's when you get the tough stuff."
She continues, "But they're doing great! I went and met the baby and he's just precious. He's a little mini-Dave!"
Lady Antebellum's new album, 747, lands Sept. 30.
— Danielle Anderson