Baby Boy on the Way for Sean Parker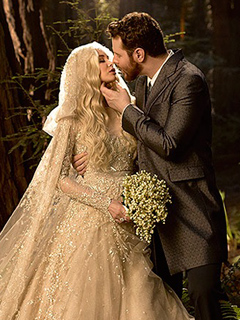 Mark Seliger
Talk about a picture-perfect family.
Sean Parker and his wife, Alexandra, are expecting their second child, a boy due in early December, the couple tell PEOPLE exclusively.
"We are overjoyed and excited to welcome the new arrival into our family," the Napster founder, 34, and his wife tell PEOPLE exclusively.
The couple are already parents to daughter Winter Victoria, 20 months. "Winter can't wait to be a big sister!" they add.
On Monday, Alexandra showed off her growing baby bump in a beautiful shot posted to Instagram. "Sunset silhouette," she captioned the photo taken while on vacation.
The pair recently celebrated their first wedding anniversary, after being married in June 2013, during a fairy-tale ceremony at The Ventana Inn in Big Sur, California, in front of 300 friends and family.
Parker made billions from Napster and Facebook and was portrayed by Justin Timberlake in the film The Social Network, while Alexandra is a singer/songwriter.
— Jennifer Garcia