Lily Aldridge Says Daughter Dixie Is in Her 'Great Twos'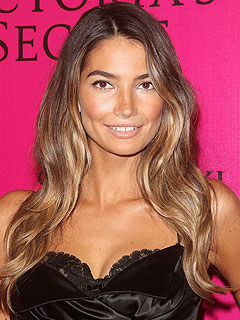 Getty
With her daughter, Dixie Pearl, having celebrated her second birthday in June, Lily Aldridge could very well be in the middle of the mayhem that is tantrums, mood swings and the sudden mastery of the word "No!"
But fortunately for the relieved Victoria's Secret Angel, little Dixie is whistling her own tune.
"She's actually in her 'great' twos!" a beaming Aldridge told PEOPLE while hosting the launch event for the Velvet X St. Jude Charity Tee Collection. "I am so blessed, I really am."
Fully aware that she may simply sound like a boastful mother, the model, who married Kings of Leon frontman Caleb Followill in 2011, points to the fact that as far as communication between her and her little one goes, all lines are open.
"She loves to talk to me on the phone, so I'll call her even if I'm in the other room," Aldridge says with a laugh. "And she'll pick up and be like, 'Hi Mom, it's Dixie!' It melts my heart, because she is just so sweet and so talkative, and I'm so proud of her."
As to the question of which parent Dixie takes after more — the rocker or the knock out — the 28-year-old doesn't hesitate for a moment.
"She is a lot like Caleb," Aldridge admits while at The Revolve Beach Haus in Malibu. "She's a firecracker. She has so much personality, and she is so smart, and she looks just like [him] as well."
As for Followill, his transition into fatherhood has been easy, but Aldridge shares she always had her suspicions that he would excel at daddy duty.
"I always knew that Caleb would be an amazing father," she says. "He's always been amazing with kids."
— Reagan Alexander