6 Stores We're Shopping for Back to School
What's one of the best parts of back to school season?
Other than meeting up with friends and finding out teacher assignments, it's shopping the sales and scoring a brand new (and super stylish!) wardrobe.
But navigating the stores and finding fun fashions that both you and your kids can agree on isn't always easy. Luckily, we've put together a few of our favorite looks that we're loving for the new school year.
From preppy and pint-size punk to eco-friendly ensembles, see the stores that we're browsing for our back to school shopping sprees!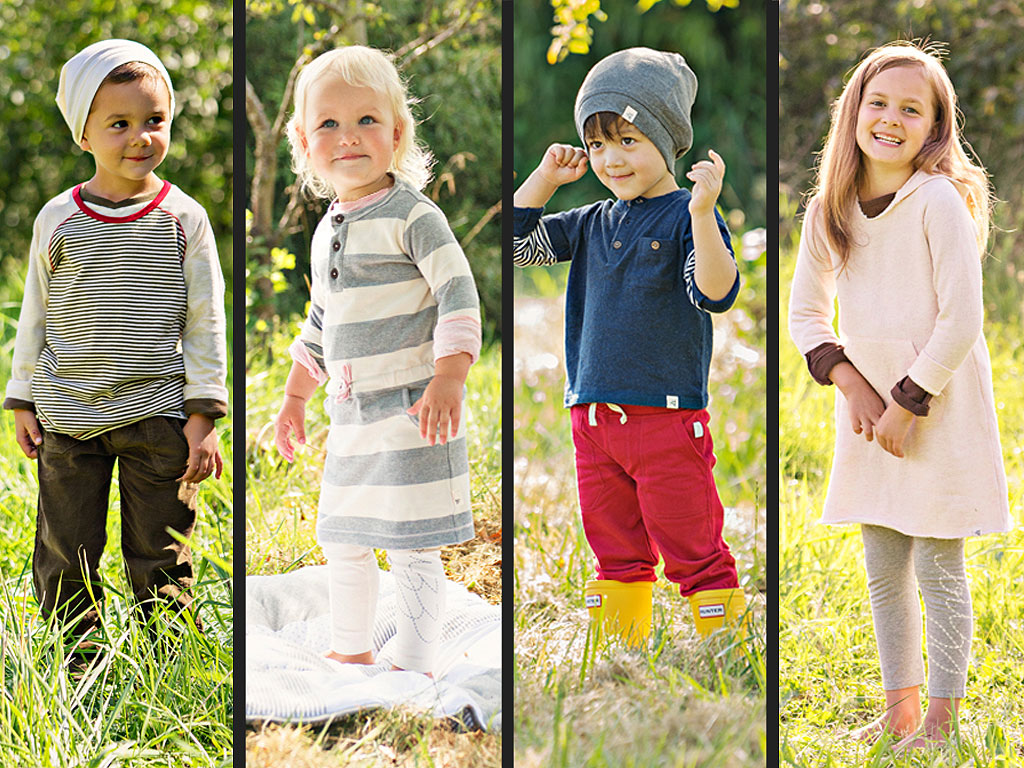 Courtesy Burt's Bees
Store: Burt's Bees Baby
Why we love it: The eco-friendly brand has crafted their new collections from 100 percent organic cotton, which means your kiddies will be comfy all day long in fabrics that are free of any harsh chemicals.
And the entire line, which is full of classic and cozy pieces, grow softer after each wash.
Our picks: Stripe Crew Neck Tee ($15) and Utility Corduroy Pants ($25); Rugby Stripe Henley Dress ($25) and Buzz Graphic Leggings in white ($13); Henley Pocket Tee in navy ($17) and Favorite Terry Pants in red ($18); Terry Hooded Dress in pink ($28) and Buzz Graphic Leggings in gray ($13)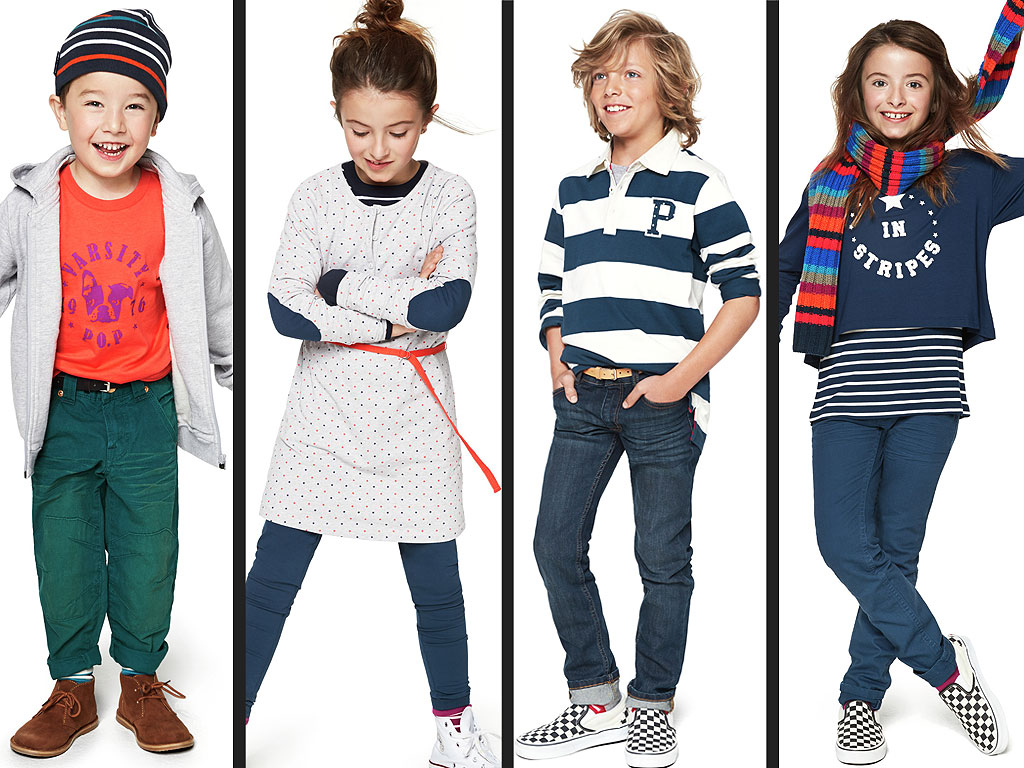 Courtesy Polarn O. Pyret
Store: Polarn O. Pyret
Why we love it: With the next big trend always around the corner, we're constantly on the hunt for timeless ensembles that will never go out of style.
Well, our search is officially over with the brand's kid-friendly (and fashionable!) offerings, including patterned dresses and colorful tunics for girls and chic polos and denim duds for boys.
Our picks: Varsity PO.P Mascot T ($19), School Time Hoodie ($38) and Updated School Pants ($50); Micro Dot School Dress ($49.50) and Everyday Eco Leggings ($23); Sporty Stripe Rugy ($46) and Dark Rinse Jeans ($45); Block Stripe Two 'n One Top ($42.50) and Colored Jeans ($45)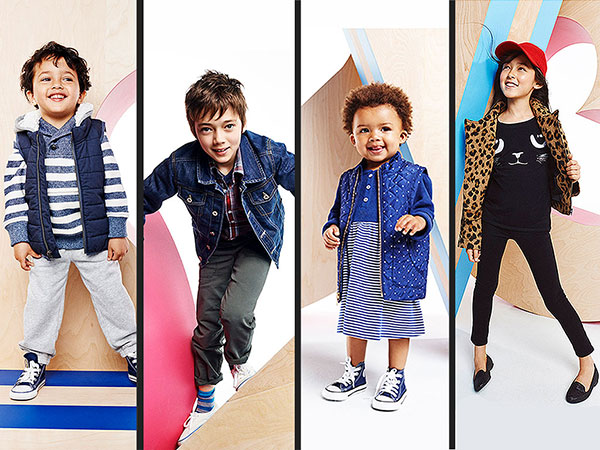 Courtesy Old Navy
Store: Old Navy
Why we love it: The brand's fun, fashionable and functional pieces make for the perfect one-stop shop to start your child's seasonal wardrobe off right.
Parents can mix and match stylish staple pieces (think jersey dresses, classic jeans and cozy cardigans) with plenty of on-trend items like animal print jackets, leggings and tees and tunics.
Our picks: Hooded Canvas Vest ($24), Striped Shawl Pullover ($22) and Fleece Pants ($8); Plaid Button Down Shirt ($17) and Canvas Straight Leg Pants ($20); Diamond Quilted Vest ($22) and Heart Print Sweatshirt Dress ($15); Denim Jacket ($28), Black Cat Graphic Tunic ($16) and Zippered Jersey Leggings ($12)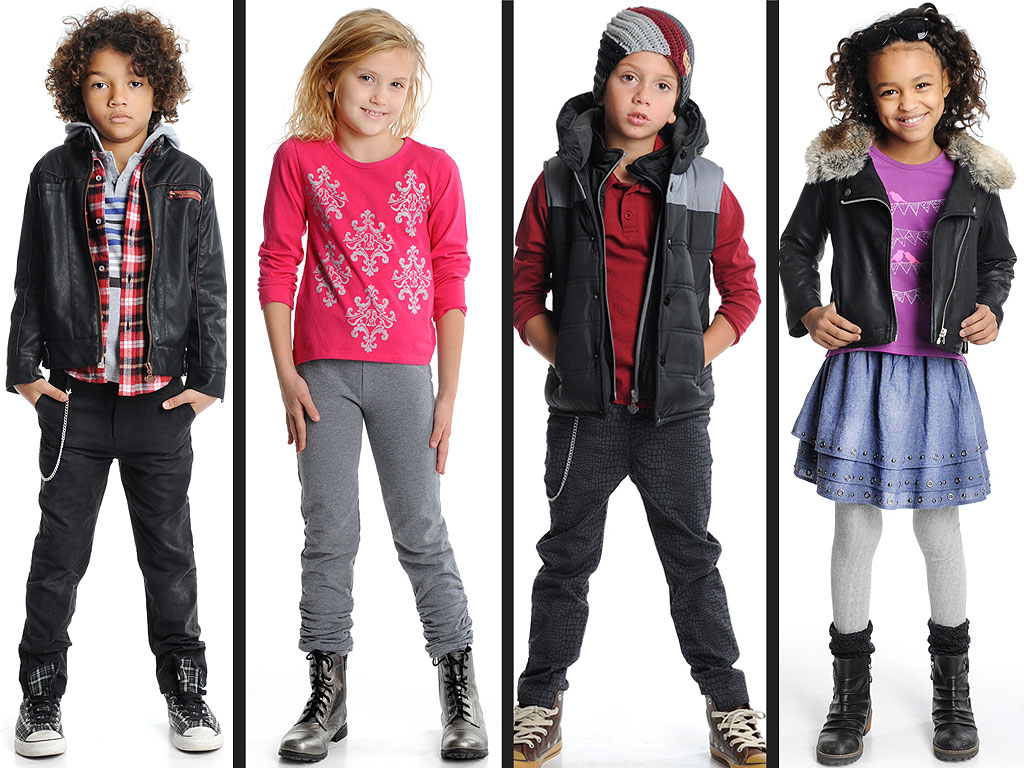 Courtesy Appaman
Store: Appaman
Why we love it: It's no surprise that Kingston and Zuma Rossdale are big fans of this edgy brand — and we are, too!
With their collection of leather jackets, tailored formal wear and graphic tees, the hip line manages to make their rocker-inspired apparel appropriate for kids yet cool enough to leave adults wishing it came in our sizes.
Our picks: Route 2 Jacket ($93) and Flannel Shirt ($53); Circle Tee ($38) and Ruched Sweats ($42); Boy Puffy Vest ($71), Cooper Polo ($42) and Prospect Pants ($51); Faux Leather Moto Jacket ($99), Passion Pit Circle Tee ($38) and Swing Stud Skirt ($55)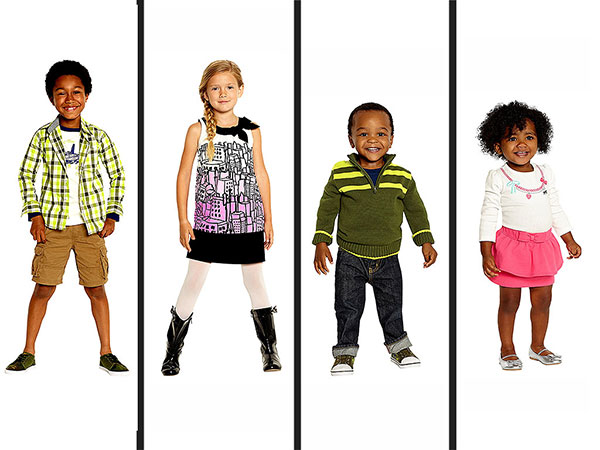 Courtesy Gymboree
Store: Gymboree
Why we love it: Their collections just keep getting cuter — and their back-to-school line doesn't disappoint! From preppy plaids and cozy sweaters for boys to ruffled skirts and printed tees for girls, your school goer is guaranteed an A plus in style for their first day of school.
Best of all? They have tons of too-cute accessories to round out your little one's outfit from head to toe.
Our picks: Plaid Shirt ($16), Jet Design Tee ($12) and Pull On Cargo Shorts ($16); City Ombre Dress ($21); Knit Half Zip Pullover ($17) and Straight Jeans ($16); Charm Necklace Tee ($12) and Peplum Skirt ($15)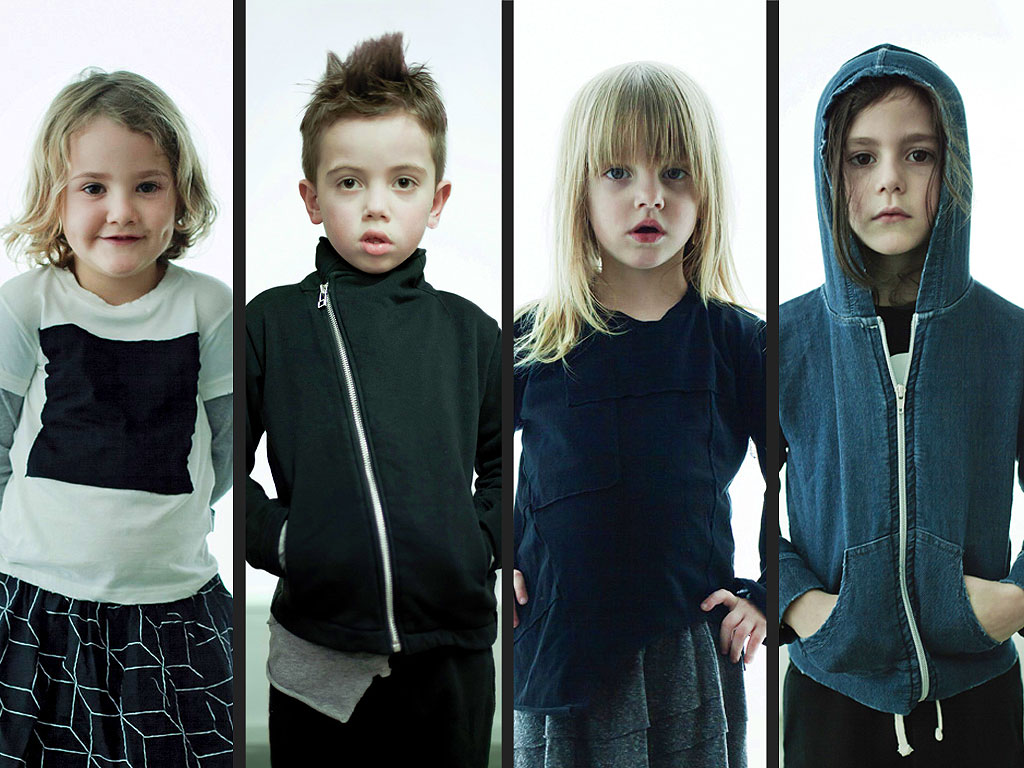 Courtesy Nununu
Store: Nununu
Why we love it: Who knew mini grunge could look so cute? This super cool line swaps out pastel and kiddie prints for grays, blacks and blues (with splashes of brighter colors!) and mod designs.
So from their chic rompers to their fashion-forward skirts, the contemporary collection is perfect for parents looking for stylish pieces with a sophisticated edge.
Our picks: Patch T-Shirt ($31) and Mini Skull Baggy Pants ($39); Solid Light Zip Hoodie ($48) and One on One Pants ($31); Penguin Shirt ($31); Numbers Zip Hoodie ($48)
— Anya Leon